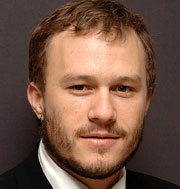 The most spiritually compelling moment of the Screen Actors Guild Awards came when the Guild paid tribute to those who'd lost their lives since the last gathering.
Susan Sarandon shared a very nice tribute to the actors who've passed, and there were a lot of them, including…Charlton Heston, Harvey Korman, Cyd Charisse, Robert Prosky, Don Lafontaine, Patrick McGoohan, Dick Martin, Beverly Garland, Sydney Pollack, Isaac Hayes, Ricardo Montalban, Van Johnson, Bernie Mac, George Carlin, Richard Widmark, Roy Scheider, and Paul Newman.

Her words were scripted beautifully and she delivered them in a heartfelt way: "To each: our appreciation for the courage it took to pursue this profession…our thanks for helping tell stories that changed us in small and unexpected ways, our gratitude for helping us to learn, to imagine and now and then to simply escape. We treasure the magic you leave behind, and wish you all a fond farewell."
And…people stood to their feet to honor Heath Ledger when he was announced as the post-mortem winner for Best Supporting Actor. Gary Oldman accepted the award and proclaimed he "was an extraordinary young man with an extraordinary talent."

The most important question, though, wasn't asked: Where are they now? Of course it probably wasn't the business of an awards show to ask the question, but it is certainly an issue for faith-based culture blog!
James Earl Jones quoted the book of Genesis in his speech. Some actors are known to thank God for their blessings when they win. "Our thoughts and prayers go out to you" is a refrain we often hear when those in the public eye are going through challenges.

Meryl Strep won for Best Actress in a Drama for "Doubt" the movie about a 1960s Catholic Church in the Bronx and the conduct of its leaders.
Kate Winslet was quoted in one of the better lines of the year, from "Revolutionary Road:" "Do you know what's so good about the truth? Everyone knows what it is however long they've lived without it. No one forgets the truth…they just get better at lying."
Hollywood flirts with the truth about God, His words, and their relevance for this life and the next. I hope everyone knows it, doesn't forget it, and isn't lying about it. Our choices in this life effect us in the next one. And as wonderful and great as the work was by those who passed away this year, the choices they made during their lives is more relevant to them now than the inspiration that their great work has left for us.
I hope to see them each again someday!