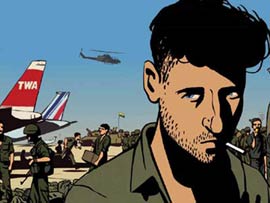 To say that most Israeli films are either about war or religion would be reductive, but not necessarily inaccurate. Even films seeking to be about, say, coming of age inevitably hit upon at least one of those essential themes of the country's existence: the near-universal conscription into Israel's battle for survival, or the polarized worlds of secular and ultra-Orthodox Jews.

"Waltz with Bashir," nominated last week for a foreign-film Oscar, easily falls into the war category. Yet the film is about more than just the numerous conflicts along Israel's contested borders; it poses fundamental questions about memory, trauma, and moral responsibility, and it does so through an unusual blend of documentary and animation.
Filmmaker Ari Folman, who as a young man fought in Israel's 1982 war in Lebanon, begins the film unable to remember anything about his service. He begins interviewing his comrades–most of whom are dramatized with real-life recordings of the now-grown men and illustrated by a master animator–and pieces together a fractured story.
Sometimes compared to the American experience in Vietnam, the first Lebanon war also was also notoriously the site of the massacre of Palestinians in the refugee camps Sabra and Shatila at the hands of Lebanese Christian militiamen. Israel's role in allowing the 72-hour massacre to take place is still debated.
The repressed memories of the men are exhumed in lyrical, sometimes hallucinatory form. Israel is a nation where the mundane and the sublime are crushed up against each other; similarly, the soldiers' youthful callowness and ordinariness contrast with the terrible and surreal nature of their wartime tasks. Throughout it all, Folman remembers himself again and again rising out of water, in an eerily religious image, onto a Beirut beach strewn with corpses.

The idea of Jewish self-defense is a core founding myth of Israel, partly in reaction to the annihilation of the Holocaust–another series of memories initially repressed in the haste to build the nation. It's no coincidence that both of Folman's parents were survivors of Auschwitz, and that his film ponders the moral complicity of the bystander. As Ron Ben Yishai, a journalist who appears in the film, told The New York Times, "Ari is saying: 'I am asking questions I inhibited for such a long time. I know we didn't kill them, but are we really better than the Europeans who stood by when the Holocaust took place?'"
The very making of the film was radical, since it involves men admitting their pain in a society that prides itself on its bravery (and bravado, too). The indirect art of animation may have helped in that respect, relying on the deferred nature of storytelling to deal with something too painful to engage directly, offering confession as a mode of moral or spiritual redemption.