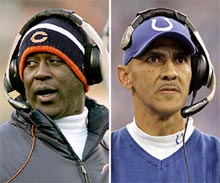 Next week's Super Bowl marks what has become something of a national holiday. New TV sales go through the roof, parties are found on every other block and open seats are available on flights! Bruce Springsteen will perform. Alicia Keys will perform. Jordin Sparks will sing the national anthem. Oh, and yes, also there is also a football game between the favored Pittsburgh Steelers and underdog Arizona Cardinals. The Super Bowl has brought its share of inspirational moments through the years; here are several of those most memorable to me:

1. Dungy and Lovie!:
On Feb. 6, 2007, Tony Dungy and Lovie Smith made history as the first two African-American coaches to face each other in the Super Bowl. They took the occasion to also proclaim their faith in Christ at official Super Bowl events, USA Today advertising, and in interviews. "The Lord set this up in a way that no one would believe it," Dungy said following the Colts and Bears conference championship wins. "The Lord tested us a lot this year, but He set this up to get all the glory." He later said "I'm so happy for Lovie who does things the right way, without cursing and shows things can be done differently…we give God all the credit."
2. The Helmet Catch:
In last year's game, the New York Giants defense kept the game close against the 18-0 New England Patriots, and when Eli Manning hit Plaxico Burress with 35 seconds left, the Giants had a 17-14 win that no one really saw coming. The play would never have happened if not for David Tyree's one hand "helmet catch" which preserved the drive and will be remembered as one of the finest individual efforts in Super Bowl History.
3. 1975, My First:
Jack Ham, Jack Lambert, Ernie Holmes and Dwight White held the Vikings to six points as Pittsburgh won a grueller, 16-6. It seemed boring to my friends, but I could really appreciate the manly defense by the monstrous men…plus I was mad at the Vikings for beating my Rams! Pictures from it (as well as other Steeler highlights) can be found
in the Sports Illustrated online vault.

4. Moments of prayer: Owner Art Rooney joined with his team for prayer after the 1975 game, and players regularly gather afterwards to pray together at midfield (though modern coverage often doesn't show it). I also love the sincere moments where players give credit to God in between.
5. "I'm goin' to Disneyland": Back in the late eighties and early nineties, when the craze started, it was so fun to see professional athletes just giddy with joy in real time, proclaiming their childlike celebrative proclamation to go to the happiest place on earth. Yes it was great marketing, and lucrative for the players, but also it was great fun to see the childlikeness of these athletes at the top of their game.
6. Lett up: Leon Lett was celebrating a sure touchdown to cap Dallas' dominance over the Buffalo Bills in the 1994 game. But in one of the more comedic twists–and classic blunders–Lett started celebrating early and Buffalo stopped him from scoring. His team still won, 52-17, but his performance was a living parable reminiscent of "don't count your chickens before they hatch." That play was shown on more highlight shows than most of the day's touchdowns and interceptions.

7. Lynn Swann's ballet:
In one of the more famous Super Bowl moments, Swann juggled and tipped the ball to himself and caught it while falling down entangled with the Cowboys' Mark Washington. He had 161 yards that day, a touchdown and was named MVP, but that moment endured as an example of focus and excellence.
8. Steelers over my beloved Rams:
In the first game that I saw in person, Franco Harris had two touchdowns and Terry Bradshaw threw for 309 yards as the Steelers won at the Rose Bowl. As a Southern California boy, it was the first time the Rams had made it to the big game and the first time I could go. I still feel the refs cost us the game, but it was still fun to be there! We finally had a nice L.A. moment 5 years later, though, when Marcus Allen reversed his field and ran 74 yards to help the L.A. Raiders beat Washington in the 1984 game. He had 191 yards and two touchdowns that day, and even though the Raiders were only an L.A. team for a short time, he was a USC guy before that and us Southern Californians were glad to enjoy the moment.
9. The Fridge:
In the 1986 game, William "The Refrigerator" Perry, a 325-pound lineman, was inserted into the game as a fullback (usually a blocking position). They actually handed him the ball and he barreled into the end zone. It was fun, funny, successful and hearkened back to a previous time when football was just about lining up and powering forward until someone could tackle you.
10. Namath's "called shot":
I didn't watch the 1969 game, but I read in the sports page that New York's Joe Namath had predicted that his team would win, even though they were huge underdogs. As a young guy who didn't have much self-confidence, I remember envying his bravado and then respecting his ability to bring it off.
11. The Greatest Show on Turf…Barely:
St. Louis had a dominating and entertaining season in 1999 behind back-up quarterback Kurt Warner, an unknown from the Canadian league who I loved for his sling-shooter passing style and his gracious and constant testimony of his faith in Jesus Christ. The Rams dominated the Tennessee Titans in the 2000 Super Bowl and led by as many as 16, but got tentative towards the end and ended up winning when several defenders stopped Kevin Dyson just a yard short of the goal line as time ran out.
12. Young Whitney and the Ultimate National Anthem:
It was 1991. The Gulf War was just getting started. The economy was starting to really slide. Back before star performances were as choreographed and marketed as they are now, Whitney Houston stopped the clock and shined like a real star in a National Anthem that jumped through the TV screen and caused us to pause and stand. If we'd have had TiVo back then, we'd have watched it again and again.
What are your favorite Super Bowl moments? Post them in the comments section below.