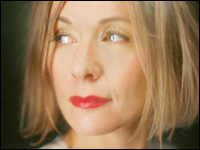 Though I am a huge fan, I have never made it to a Sam Phillips concert–not even when she played a Christian college a few hours away from me last week–but Monday night I will have a chance and I urge anyone who is not familiar with her amazing music to join me.

NPR will be streaming an
entire Sam Phillips concert
tonight on the web as part of their "All Songs Considered" music series. At approximately 8:30 p.m. EST Phillips will be performing live from a venue in Annapolis, Maryland, and will be singing many of the songs off of her latest release, as well as some of her older works.
NPR also is featuring a brief interview with the singer on their website in which she expresses that her artistic influences still include religion– as well as 1950s and 60s advertisements and explains her career this way: "At this point, I am much more interested in the things that are bigger than TV, smaller than mass culture."
Now, is anyone out there
still
wondering why I am such a fan?