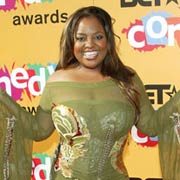 Comedian turned "The View" host Sherri Shepherd has had some darkness in her past, including family involvement in drug addiction, and her experience having had casual sex and the resultant "more abortions than I would like to count." She also mentioned her divorce, which itself was due to her husband's cheating on her. (Reported by USmagazine.com.)
These aren't notes from a therapy session: they're instead excerpts from a new interview with Precious Times magazine, in which Shepherd describes her pre-Christian life's great contrast from the faith-based approach that she currently takes. She used to have such huge self-esteem problems, she says, that she felt that "if someone killed me, it wouldn't even make a difference."
But after converting to Christianity, she said, "God showed me that it would make a difference."
Since joining "The View," Shepherd has become known for her faith. But, as the article in USMagazine.com reports, it's still "tough talking religion" on the show:
"Oh, sometimes I say, 'Lord, Juanita Bynum or Joyce Meyer would be so good at this table. They could lay hands on Barbara Walters and get her saved,'" she said.

I would love to see Christianity–or other faiths–discussed on TV. To me, seeing other entertainment professionals displaying their faith in an authentic, heartfelt manner is inspiring. I'm not sure that "talking religion" itself is the challenge. Religion can be a unifying factor and a comforting system, or can serve to be divisive and elitist. But when you start inviting people on the show to save your co-hosts, that's edging into the "my way or the highway" approach; it's no longer you representing your beliefs, it's you asserting that others are fundamentally wrong in their beliefs and need to change.
Perhaps that's why Shepherd finds it so challenging.
For more of Sherri's thoughts on faith's role in her life, check out her interview with Beliefnet.