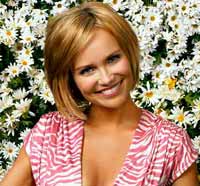 Look out, Dr. Drew. I am going to start my own celeb rehab series, but it won't be to help stars overcome their substance abuse addictions. My rehab is going to focus on actors who need help to break their addictions to other people. And I don't want my first guest to be Britney or Lindsay. I want Tony-winning, Emmy-nominated "Pushing Daisies" actress Kristin Chenoweth.

First of all, let me make it clear I am a huge, huge fan of Chenoweth's. Which is why I was unhappy when according to two different reports on the web
Aaron Sorkin announced last week at an ABC press party
that he has reunited for the umpteenth time with Chenoweth, making them the latest Hollywood power couple. Theirs has become a legendary tumultuous relationship in Hollywood that has been on-again, off-again for the past few years. Of course, the relationship might not be so legendary if Sorkin hadn't decided to divulge intimate details of their relationship vicariously through
the character of Harriet Hayes
on his defunct show "Studio 60."

Yes, there is the obvious relationship problem of a mismatch in religion– he has claimed to be an agnostic Jew while she is a Christian– but I'd like to go out on a limb and surmise that is not the only reason the romance has been one, big emotional boomerang.

Trust would be a big issue for me if my ex-boyfriend had so thoroughly– and not always kindly– revealed our pillow talk on air to millions of people.
I'm just saying anyone who spews as much negativity about religion in his scripts as Sorkin does, hmmm, might have a ways to go before he starts reading N.T. Wright's "Simply Christian."
Of course, Chenoweth may get a little revenge– or at least set the record straight from her perspective–
in her memoir
"A Little Bit Wicked: Life, Love, and Faith in Stages," coming out next year. But in the meantime, I encourage Chenoweth to call me. If she won't go into my celebrity dating rehab, I wish she would at least go on my version of "The Bachelorette." A friend of mine and I have a bet that we can find her a fantastic, non-Hollywood husband in six months if she gives us a chance!