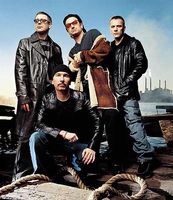 Unlike some of my colleagues here at Beliefnet, I am not a huge music person. I've got my favorite tunes and artists, but I don't live and breathe music, there isn't a soundtrack to my life constantly playing at home or in the office or in between. And yet, occasionally, I come face to face with a reminder of what I am missing, a glimpse of the power of music to inspire. This happened most recently while sitting in a screening room watching the movie "U2 3D," opening in limited release over the next few weeks.

It's not a movie I would have expected to affect me. I like U2 a lot–they're among those few bands I do follow and whose music I generally listen to frequently–and their work is clearly spiritual and deeply meaningful. But "U2 3D" is, as the title suggests, a film of a U2 concert in Buenos Aires, shot in 3D–complete with 3D glasses–and aside from the cool factor of the 3D, I wasn't sure what to expect. (In the interest of full disclosure, one of the film's executive producers is Sandy Climan, who works as a consultant for us here at Beliefnet.)

The 3D factor is more than just cool, though. It really does transport you to the concert, even onto the stage, as Bono and friends play their hearts out on mostly-familiar greatest-hits songs. Somehow, the line between movie and concert is blurred, although I remained all too aware the whole time that I was sitting in a comfortable movie seat, not standing dancing at a concert. But it goes beyond bringing you into the stadium, as the effect works two ways: It brings U2 and its fans into the theater. When Bono reaches out, it is not merely a gesture on some distant stage. His hand seems inches from your face, inviting you to join him in making soul-affecting music–and, this being U2, in making the world a better place.

U2 doesn't give the most theatrical of performances, and in some ways, choosing them for this type of movie experience seemed odd at first. They don't offer highly choreographed dances, costume changes, or major special effects. But then there's the music, and like any good concert, "U2 3D" is all about the music and getting consumed by it, as much as the screaming, dancing fans in that Argentina stadium.
The movie–the experience of sitting in a dark room for an hour and a half listening to U2 songs recorded at a live concert and filmed in 3D–made me wonder why I am not more of a music person. As Bono sang about Martin Luther King's dream (the screening happened to be on MLK's actual birthday), or donned a headband with
the word "COEXIST" spelled out using various religious symbols
, or implored the children of Abraham to learn to live together in peace, even that deeply cynical part of myself couldn't help thinking that maybe, just maybe, music
can
change the world.