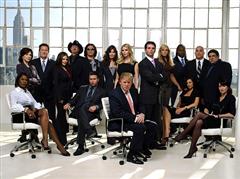 When you think of the world of business, you can't help but think of Donald Trump and his show "The Apprentice," which, as the show's theme song tells you, was all about "money money money…money!" The idea was that people could come from different backgrounds, not necessarily out of the world of business, and become Trumpian. After all, before the Donald started marrying and divorcing trophy wives, creating an iconic-if-derided hairstyle, and living in apartments with three-dimensional gold frescoes, he was just an ordinary guy. And so, in taking other ordinary guys (and women) and allowing them access to the resources and challenges that will prove their abilities, he was acting as the alternately stern and occasionally rewarding parent who will decide who would make the best Trump clonelet.

But now there's "Celebrity Apprentice." Why would celebrities need "The Apprentice"? They, by definition are not ordinary people. They have been elevated by popular culture to the point of intense familiarity, they're people we already love to hate and hate to love. They're not in it for the money, that's for sure,
reports the Daily News
:
Unlike the past six seasons, the celeb contestants will not be battling it out for a spot in the boardroom next to Trump, but instead will be working to benefit their favorite charities. The winner will receive a $250,000 for the cause of their choice.

Several months ago I made some suggestions about who might make an excellent Celebrity Apprentice. But as usual, Hollywood's fatal flaw is not listening to bloggers; the "celebrities" that have been selected aren't all household names. Vocal Christian Stephen Baldwin will hopefully supply Beliefnet with our Celebrity Apprentice faith angle over the coming months. And we've got Gene Simmons, milking his Kiss years with yet another reality show. (How long will it take until he shows us his legendary tongue in the boardroom?) And Vincent Pastore from the Sopranos, who previously whacked us with a Celebrity Fit Club. And here are the rest of the nominees–oops, I mean, "Apprentices."

Other celebrity contestants include country music star Trace Atkins (who?), former heavyweight boxing champion Lennox Lewis, "America's Got Talent" judge Piers Morgan (who?), Olympic softball gold medalist Jennie Finch (who?), actress Marilu Henner, model Carol Alt, TV producer and executive Nelly Galan (who?), ultimate fighting champion Tito Ortiz (who?), Playboy's 2005 Playmate of the Year Tiffany Fallon and gymnast Nadia Comaneci. And getting her own sentence here is former Apprentice "villain," Omarosa Manigault-Stallworth.
Here's a hint. If pop culture bloggers are asking "who?" to more than two of your designated "celebrities," it's time to reassess the definition of the word. But that's just my opinion.