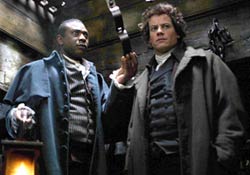 The film "Amazing Grace"–which was released on DVD yesterday–tells the story of William Wilberforce, who led the successful effort to abolish slavery in 18th-century Britain. He was inspired by a former slave trader who wrote the widely known hymn.
To celebrate the release of the film, Beliefnet is giving away 10 copies of the DVD.

There are two ways for you to enter:
1) Post a comment below by November 27th telling us what the hymn "Amazing Grace" means to you. Make sure you include your email address in the designated area (it won't be made public).
2) Or, show us what the song means to you by uplaoding your own version of "Amazing Grace." To do this,
visit the Beliefnet Community site and click "Upload Audio" to add your own audio file
of the song (also, by November 27th). Please note, you must log in with your Beliefnet user name and password first. If you do not currently have one, you may register for free.
The five most original written responses and five most original audio versions–based on the judgment of the Idol Chatter editors–will win a copy of the DVD.
To listen to cool renditions of the classic him by popular artists,
click here.
For the legal issues,
click here.