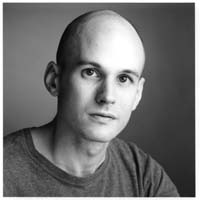 This post is from playwright and screenwriter Keith Bunin, author of the plays "The Busy World is Hushed" and "The Credeaux Canvas."
For the past week I've been on strike for the first time in my life. I'm a writer, so I usually spend all of my time all alone in my apartment in Brooklyn, hunched over my computer. But these days I get up in the morning and take a subway into Manhattan so I can stand on a picket line in the chilly November weather.
I hate that I'm on strike for a lot of reasons. First of all, writing isn't just a job for me—it's a huge part of my identity. The truth is, I'd write every day whether or not I got paid for it. I feel deeply fortunate that I've been able to support myself doing something I love. In that light, it's hard to summon the necessary righteous ingratitude. As a general principle, however, I do believe that the writer of any creative work should receive a fair percentage of the profits from it. I'm better at advocating for my fellow writers than I am for myself.

The actual picketing isn't so bad, even if the whole reason we're there depresses me—I've gotten back in touch with friends I haven't seen in a while, plus chatted with writers from Saturday Night Live and Conan O'Brien and the soaps. Sometimes it feels kind of like a mixer. One day Richard Belzer brought us all sandwiches, and a guy from AFTRA brought us coffee and donuts. The sense of camaraderie and community is just about the only mitigating factor in a situation that's making me more and more unhappy.
Here's what I hate the most: I hate that it's union of middle-class writers striking against an organization of extremely wealthy executives. I hate that the first people it'll harm are the support staff, the writers' P.A.s, agents' assistants, and the like who are living paycheck to paycheck. The idea of that immediately makes me want to lock representatives from both sides in a room together and not let them leave until they've hammered out an agreement.
I learned everything I know about civil disobedience as a student at Oakwood Friends School in upstate New York. We were taught about the passive resistance of the early Quakers. We had a thriving Amnesty International chapter. We took field trips to march on the White House. I've been trying to figure out how to apply the lessons of my Quaker education this past week.
What I learned most from the Quakers is a sense of justice and fairness tempered by kindness and forbearance, and that we should all strive to transcend our rancor and bitterness so that we can solve our disputes fairly and humanely. I'm hoping that by standing outside in the cold for a little while, we can bring everyone to the table so that we can all go back to work.
— By Keith Bunin