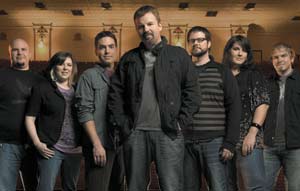 One of the year's most anticipated Christian albums is set to hit stores August 28th–"The Altar and the Door"–by top-selling worship band, Casting Crowns.
Beliefnet has five autographed copies of the album to give away. To enter, just post a comment below by August 30, 2007, telling us how you try to stay on a Christian path. Make sure to include your email address in the designated area (don't worry, it won't be made public). The most original responses–based on the judgment of Idol Chatter's editors–wins. Have fun with it. Be creative, and the CDs could be yours. We'll notify the winner by email.

Casting Crowns, who Beliefnet recently named one of the
"Top Christian Music Stars,"
use their experience as music ministers as fodder for many of their songs, and in particular this album. In describing "The Altar and the Door," lead singer Mark Hall says, "At the altar, everything makes sense, and when we're in the church and spending time with God, we know what we're supposed to do and how to live. But somewhere between the altar and the door, when we leave and go out into our lives, it all leaks out. The Christian life is the journey between the altar and door."
To listen to "East to West" off of the new album, <a onclick="avPlayer('http://real21mt.audiovideoweb.com/ramgen/avwebmt1283/ChristianMusic/ccrowns_easttowest.ra','Casting Crowns: \'East to West\'
from The Altar and the Door
(c) 2007 Provident Label Group LLC','/imgs/avplayer/player_castingcrownsgroup.jpg','320′,'240′);" href="#">click here.
For the legal stuff, please
click here.