Watch a video clip from "10 Questions for the Dalai Lama," a new documentary by filmmaker Rick Ray, opening August 31. Ray traveled to India to interview His Holiness, only to find out he didn't have an interview scheduled. Ray later sent him an email (yes, the Dalai Lama has Internet access), and was granted a 45-minute interview to ask 10 questions–provided that the questions were sincere and serious. In this clip, the Dalai Lama talks about whether a society must give up its traditions to move into the future.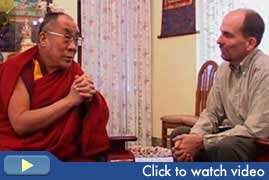 What questions would
you
ask the Dalai Lama if you had the chance?