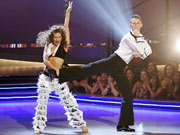 This summer, Wednesday night is reality TV night for my digital video recorder, committing to memory both "So You Think You Can Dance" and "Top Chef" for my later consumption. Usually "Top Chef" serves up the drama with the delicious dishes its participants create, but last week's "Dance" produced far more drama than even the "Marcel Head Shaving" incident on last season's "Top Chef."

Away from most media last week, I was sitting down to watch last week's "Dance" episodes with my neighbor, who asked if I had heard about the
big controversy
. No, I hadn't, I told her. Not only had judge Mia Michaels offended numbers of viewers by wearing the Marine dress blue blouse with improperly placed and upside down chevrons, but choreographer Wade Robson had created an "anti-war" routine for the contestants to dance as their first solo routines, which aggravated more viewers.
Apologizing to the crowd on elimination night, Michaels said that she wasn't aware of the blouses' provenance, and that it was just a fashionable jacket that her friend had given her to wear.
"I understand why people were upset, and I respect that," she said. "That symbol is sacred to the Marines, it's what they earned. The problem needed to be addressed and I'm glad we addressed it. That's why I made a public apology."
But, is Michaels really that naïve? Terry Trippany, editor of
Webloggin'
, doesn't believe so, writing: "The fact that Mia Michaels wore the blouse (not jacket) with an upside down Marine emblem on the same night that Wade Robson choreographed an anti-war dance solo is not some mere coincidence in my estimation."

And I would have to agree. Certainly Ms. Michaels knew what that night's choreography would be and perhaps thought it would be fitting to wear a military-style jacket; although I have to say that since the war started I have left my own military-inspired clothing in the closet as a sign of respect to those abroad.
But she doesn't seem the type to hold back if she was making some sort of statement, and there did not seem to be any malicious intent in her actions. If, as Ms. Michaels says, there was no political motivation behind the wearing of the blouse, then she simply demonstrated some shortsightedness. Although, I have to admit, those dress blues do look sharp on just about anyone.
While I can see why Ms. Michaels' fashion faux pas raised some eyebrows, I'm having a harder time understanding those who are complaining about Wade Robson's "anti-war" solo routine. Each participant danced the exact same routine but was given different attributes that contributed to peace in the world: understanding, communication, unity, and so forth.
In a clip before the first solo dance, Robson explained that the routine is "about peace … it's about the war, anti-war." And that's where Wade went wrong. He can spin a partner, but he can't spin his words. He tripped over his words and wasn't able to articulate verbally what his dance did: That living in peace with each other is the prefered state of being.

Fellow judge and choreographer Dan Karaty, whose brother Thomas is a Marine, told
UsWeekly.com
that "I don't think 'So You Think You Can Dance' is the right form to express political opinions."
Putting Robson's personal politics aside, I didn't see a blatant political opinion being espoused on that stage, no more so than when "American Idol" was raising funds for kids in Africa earlier this year. Robson was inspired to choreograph by current events, but I don't believe it was a statement against this military operation in particular, but rather wanting a world without war–this war, any war.
As executive producer and judge Nigel Lythgoe explained, while also apologizing for offending viewers, it's safe to assume that no one likes war. Although Lythgoe and the other producers would have been smarter if they had made Lauren's dedication of her solo dance to her soon-to-be-in-the-Navy brother part of the first show.
I took issue with the routine simply because it bored me and offered a prime opportunity for the participants to over emote.
I could defend "Dance" by rehashing the argument that people can still be patriots and support the troops even if they fundamentally disagree with the military maneuvers in Iraq, but I don't think that's the most important take-away. According to a number of blogs that criticized the political statment of the episode, the show is supposed to be escapist entertainment, tip-toeing around reality. But, in this day and age of marketing-driven media where the audience is soothed and assuaged at every turn, we often forget what art can, and should, really do–not only inspire, but provoke.
"Art should be allowed to make statements," Lythgoe said. And, indeed, it should. And while I didn't see intentional provocation in the routine, it does bring a smile to my face that a Fox network show, besides
"The Simpsons,"
has risen to the level of art.
"So You Think You Can Dance" airs tonight at 8:00 p.m. on FOX.