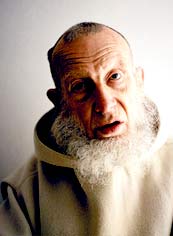 Audiences will either find director Philip Gröning's "Into Great Silence"—an almost three hour film chronicling the silent lives of the Carthusian monks at Grande Chartreuse, a stunning but austere monastery perched high up in the French Alps–a masterpiece or the most boring movie they ever saw.
Like the days and nights of this tiny group of men (viewed by some as the most ascetic monks in all the world), "Into Great Silence" proceeds almost entirely without sound–save the pitter patter of the rain falling against windows, the crack of ice underfoot, or the wind howling under doorways and across the jagged mountaintops.
Aside from the voice of the natural world, audiences will hear only prayer in the form of traditional chants from the monks who populate this austere locale. Only in two instances do the men have "recreational" chatter, the first which comes nearly a full two hours into the film. As a result, their talk startles the viewer–it's almost moving to suddenly hear these disciplined men laugh and gossip.
The second instance comes just before the film's end and is the most endearing of all–it's almost worth sitting through the entire experience to get to it: Audiences are treated to a scene where the monks slide down the steep slopes of a mountaintop near the monastery. You can't help but laugh and delight with them in the simple and childlike fun, so unexpected after this window into their strict lives.
As I watched this virtually silent film, I couldn't help but think that watching the movie is an excercise in silent meditation. Audience members must each take a temporary vow of silence of sorts–committing to let the dark of the theater and the length of the experience take viewers into stillness of the monks who move silently through the ordinary tasks of their daily lives.
But it is not for everyone. Some people will hate it and walk out no doubt. This is a film whose entire purpose is to quiet the mind and not fill the screen with action, plot, and dialogue. But if I were you, I'd give it a chance. With the right attitude, you might find it quite profound and certainly unique.
You can see "Into Great Silence" at various film festivals across the country in the coming months.