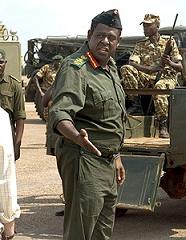 Say "Idi Amin," and the response will almost certainly be vehement, a furious reference to the thousands killed or a whole-hearted endorsement of the changes he wrought on Uganda in the 1970s and '80s. You'll find a more balanced point of view in "The Last King of Scotland," adapted from Giles Foden's novel by screenwriter Peter Morgan, who also gets under the skin of a historically stoic Queen Elizabeth II in "The Queen."
Here Morgan (along with co-writer Jeremy Brock) debunks the idea that Idi Amin was either tyrant and savior, turning him instead into a dangerously charismatic leader who liked to tell strangers that he knew the day–and cause–of his death.
For actor Forest Whitaker, who outwardly resembles Amin (the stature, the bulk, the charm) starring in "Scotland" was a time-consuming feat. First there was the research–countless tapes watched and books read and costumes tailored and one region-specific accent learned. But the most challenging aspect of transforming, however briefly, into the infamous dictator was finding a spiritual connection that had nothing to do with physical appearance.
"Trying to find the spirit of the guy was really hard," Whitaker said when he sat down with journalists at a New York hotel in September. "I'm searching for a connection inside myself."
What would that connection be? For starters, Amin, who in the film first befriends and then turns against a young Scottish doctor named Nicholas Garrigan (James McAvoy), it was the distinction that Amin, like himself, was a spiritual man.
"Idi Amin would reference spiritual things," said Whitaker, who stipulated that though Amin "became more in touch with his belief system" when he left Uganda for Saudi Arabia, "all through his reign he was saying things like, 'I had a dream…, ' 'I know the moment of my death. No one can kill me.' And I think he really believed that. I think that was key to his personality."
It's also a key to the movie, which is beautifully directed by first-timer Kevin MacDonald and follows the fictional young Scot Garrigan from his medical school graduation to his impulsive, missionary-esque trip to Uganda. He arrives just as Amin has taken over and falls first for the wife (Gillian Anderson) of the doctor he's assisting, then for a powerful and unexpected offer: Amin invites him to live in the palace as his personal physician.
Faith is a subplot, but the focus of the film is loyalty. Nicholas, a Protestant, is drawn both by Amin's charm and his obvious power, but their impulsively formed friendship begins to unravel when Nicholas seeks to find out more about disappearing members of the government, and it devolves dangerously when Nicholas sleeps with Amin's beautiful, neglected wife (Kerry Washington).
This is first-class filmmaking, from the photography (on location in Uganda), to the music (by Alex Heffes). But the real reason to see "Scotland" is Whitaker, who will almost certainly be nominated for an Oscar, and (in my opinion) ought to win. What Whitaker does isn't mimicry, it's absolute embodiment on a level that isn't just physical–think Philip Seymour Hoffman as Truman Capote or Nicole Kidman as Virginia Wolff, only possibly more powerful and definitely scarier.
How, then, did the actor leave Amin behind after a grueling shoot?
"I take a shower," Whitaker said. "I kind of wash the character away."