Feeling the need to quench your spiritual thirst?
You may want to visit The Crowning Glory Tea Room in Fountain Hills, Arizona.
A divine destination where chamomile meets Catholicism and sacred meets sweets.
Before you nestle in for some scrumptious conversation choose which parlor suits you best.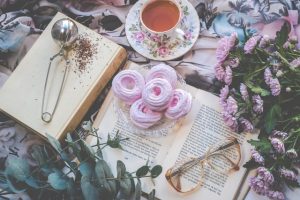 This faith-inspiring locale has dedicated each room to a different country and saint.
Or in Crowning Glory Tea Room's own words, "The exceptional lives of people who have given us a glimpse of heaven."
Order some Mother Theresa Chai or a beverage in honor of another of the Catholic faith's most holy. Even better? Sink into comfort while reading pillows etched with the words of the saints.
For larger celebrations enjoy 'Mary's Garden.'
A beautiful English Cottage Room devoted to the Blessed Mother. This room is large enough to host family gatherings, book clubs, office parties, and showers or intimate enough for a few.
Not a detail to be forgotten, servers will bring your steaming sip of spirituality while wearing rose-covered attire.
No doubt because the rose is a significant Catholic symbol.
It grew with the absence of thorns in paradise and the Blessed Mother Mary was called 'a rose without thorns.'
Call ahead for reservations to experience what Crowning Glory calls a "Heavenly Atmosphere."
A respite to feast with faith, family, and friends.
We couldn't agree more.
Sounds divine.
For more information on The Crowning Glory Tea room
Follow me on Facebook @Colleen Orme National Columnist
Instagram @colleenorme
(Photo Mine)
Twitter @colleenorme
E-mail: Colleen.Sheehy.Orme@gmail.com