I posted a pic on Facebook with the caption, "My New World" – Smiley Face emoji.
I know what my friends must be thinking.
"Oh, for Pete's sake Colleen! You moved one lousy town away! You didn't leave the state!"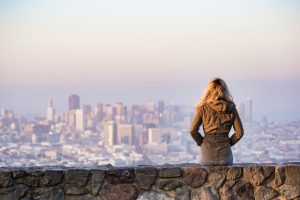 Of course, to me, I've trudged through mountains, valleys, rivers and more to get here. Maybe even a few swamps and a bit of quicksand. You get the point. It was a major trek to move a mere ten miles or less.
What's that children's book? Over the hills and through the woods?
That's me.
So yes, my post was a bit tongue in cheek.
Obviously, I still reside in the same state but the feeling of re-emergence is real.
SO very real.
This is MY new town and MY new beginning. Never mind technically it's the town I ran the majority of my errands in. But it is different. I grew up in and lived in a rural gem just outside a major metropolitan area. I lived on two acres where the deer and the antelope roamed.
Okay, the deer and the squirrels.
But I promise you it felt like the country.
So this is urban living for me.
I like to call myself a 'City Girl' now just like my friend Trixie did before she made the move to the BIG city – ten miles away or less.
I mean if the Pioneer Woman can call herself a city girl who moved to the country when in actuality she's an Oklahoma girl who moved to the city and then moved back to Oklahoma.
Well then, I am certifiably a proud new 'City Girl.'
Never mind that my city consists of only about four city blocks.
One of my high school BFF's gets it.
She called and said, "You're Mary Tyler Moore! Single and Living in the City."
Yes, I am.
I am Mary Tyler Moore meets Sarah Jessica Parker – at least in my own mind.
The rationalization? I'm single, I live in the city, AND I write about relationships.
And because it turned out well for the two of them.
Mary made it in the city and Sarah ended up with Big.
Therefore, it stands to reason I will soon be awash with professional and personal opportunities.
In the meantime, I will hold onto MTM's theme song because, well, I like the ending.
Who can turn the world on with her smile?
Who can take a nothing day, and suddenly make it all seem worthwhile?
Well it's you girl, and you should know it
With each glance and every little movement, you show it
Love is all around, no need to waste it
You can have the town, why don't you take it?
You're gonna make it after all
You're gonna make it after all!
Follow me on Facebook @Colleen Orme National Columnist
(Photo Courtesy of Pexels)
Instagram @colleenorme
Twitter @colleenorme
E-mail: Colleen.Sheehy.Orme@gmail.com