Love is simple in infancy but becomes hugely complicated with time.
As the initial romantic deluge is replaced by normal day to day routines.
This hustle and bustle often leads to complaints about various aspects of our relationships. The little things our significant other may or may not do. The things which hurt our feelings or frustrate us.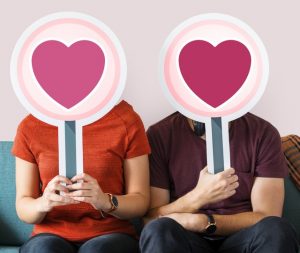 Ignored these things can simmer to a boiling point and result in relationship chaos.
This simple yet complicated phenomenon also applies to other areas of life.
Take, for instance, an entrepreneur running a business or a young mother navigating parenthood.
The small business owner is often referred to as the CEO, aka, Chief Everything Officer. This means they are the bookkeeper, the salesperson, the operations manager, and more. In other words, it's not the original product or service which is occupying this individual, it's all of the in-between. Thus, making it crucial they stay centered on their original brand focus and tried and true marketing principles. The success of the business depends on it.
Likewise, the young parent is at risk of being overwhelmed by daily demands. There are crying babies, sleep deprivation and vast physical and emotional demands. Without some structure, life can feel out of control. It's no longer the children occupying the parental focus it's all of the in-between. However, with some proven parenting techniques, core values, and boundaries the familial beast is easily tamed.
Without a doubt, business and parenting are both hard but well worth the rewards.
Now let's use LOVE as an example.
Love is easy in the beginning. 
The TIME when all we do is make TIME for one another. 
Simple, right? Now let's add the complicated.
There are two families to join together, demanding professions, houses to buy and babies to be born. There are personalities to merge and habits to be tolerated. There are finances and life long goals to manage. And suddenly there is no TIME.
It's no longer about wooing and cuddling the one you love. 
It's all about the in-between.
But what if there were one question that cut through the daily mud and the muck?
A question so simple but yet so powerful.
That question?
Do I make you FEEL loved?
Not only should we be asking this of the one we love, but we should be holding ourselves accountable to it as well. Asking ourselves periodically, "Am I making this person feel loved?" Take this a step beyond our significant other and we should be asking all those closest to us…
Do I make you FEEL loved?
Of course, there are many things beyond building love together which complicate it. Namely, the family of origin, the roles we play in childhood, egos, respect, and communication just to name a few.
However, just as marketing principles uncomplicate business and parenting principles uncomplicate parenthood, this one question uncomplicates love.
It dumbs down the day to day operations.
It restores all that really matters…LOVE
And most importantly, it takes out the in-between
Follow me on Facebook @Colleen Orme National Columnist
(Photo Courtesy of Pexels)
Instagram @colleenorme
Twitter @colleenorme
E-mail: Colleen.Sheehy.Orme@gmail.com