Nothing warms the hearts of the holidays more than a fireside reading of A Christmas Carol or perhaps Twas the Night Before Christmas.
Kids nestled next to their parents, sipping hot cocoa and absorbing classic tales of wonder and inspiration.
As the adults slow their pace and remind and embrace all that truly matters in this world.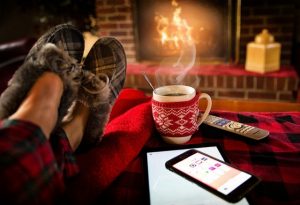 Books have a storied (an appropriate pun) past of uniting families in the season known for hope, faith, and love.
And now there is a new must-have Christmas classic filled with real-life stories of faithful inspiration.
Godwink Christmas Stories: Discover the Most Wondrous Gifts of the Season is the latest in the Godwink Series by New York Times Bestselling author SQuire Rushnell and his wife Louise DuArt.
Rushnell is a former television executive turned author/speaker and DuArt an actress, comedian, and author.
Together they form an indomitable duo scattering messages of hope from above in the form of true-life stories.
The term Godwink was originally coined by Rushnell and is now permanently defined in the dictionary…
"Godwink – An event or personal experience, often identified as coincidence, so astonishing that it is seen as a sign of divine intervention especially when perceived as the answer to a prayer."
Godwink Christmas Stories includes 21 new stories of divine intervention as well as 9 great Godwink classics. And while these particular tales revolve around the holidays, these stories of devout faith working in real-life far transcend the season.
Making it the perfect read all year long and attesting to why the Godwinks Series have become enduring bestsellers.
This book is garnishing great demand.
Not unlike the captivating premiere of Hallmark Channel's A Godwink Christmas starring Kathie Lee Gifford, Kimberley Sustad, and Paul Campbell. This is the first movie bringing to life one of the stories in the Godwink Series and it too has met with overwhelming interest and viewership.
A testimony to a storied history that unites one and all.
Classic tales of wonder and inspiration.
The type of wonder which can be derived from only one thing…God.
And a reminder to slow the pace and embrace all that truly matters in this world.
(Footnote: You can find Godwink Christmas Stories on Amazon and in bookstores.)
Follow me on Facebook @Colleen Orme National Columnist
(Photo Courtesy of Pexels)
Instagram @colleenorme
Twitter @colleenorme
E-mail: Colleen.Sheehy.Orme@gmail.com