I am at the mall grabbing lunch at Norstrom Cafe.
One of my fav places to nosh.
A young girl in front of me appears to be searching for payment and urges me to go before her.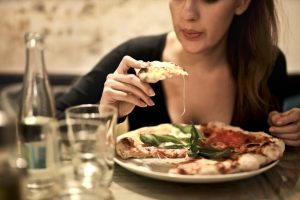 I pay for my food and notice she is now asking others to go in front of her. It seems there is little reception in the Cafe so she struggles to bring up the necessary financial information on her phone. I make it look like I am stopping to peruse some yummy cookies and it becomes pretty clear she is in a bind.
I discretely hand the cashier twenty dollars and urge him to pay for her lunch.
As she realizes her bill is paid she protests.
"No worries," I say. "I understand financial stress so it makes me happy to do it."
We sit not far from one another as we enjoy our food.
When she is done, this beautiful young girl comes over to my table to attempt to give me the few dollars she has on her.
"No, need," I say.
She thanks me again.
In a somewhat bewildered tone she says, "Really, people just don't do this for other people." I paraphrase but it was something to that effect.
"Money isn't that important to me. I was happy to do it," I say.
We say our goodbyes and her gratitude leaves me with two thoughts.
My first thought…
My ex-husband has spent years using money as a weapon and I worry the impact it will have on my children.
Our relationship should be with people. We should not have a relationship with money.
My second thought…
I cannot take credit for what I did.
The credit goes to my mother.
My mom lived far outside her four walls.
Much in part to her father a New York City Policeman, her mother a midwife, her brothers who were cops and firefighters and a priest.
What I did had nothing to do with me at all.
It can be accredited to my ancestors.
An emotional heirloom handed down for generations.
A desire and ability to live far outside our own four walls.
To make our relationships with people.
Follow me on Facebook @Colleen Orme National Columnist
(Photo Courtesy of Pexels)
Instagram @colleenorme
Twitter @colleenorme
E-mail: Colleen.Sheehy.Orme@gmail.com