When I was in my twenties I would tell my uncle I wanted him to live with me one day.
He would smile and laugh.
"No," I would say. "I am serious. Promise me you will live with me."
I remember my aunts asking him if he would come back to New York City to retire. He had lived in the Washington D.C. metro area for so long it had never occurred to me he might move back to his native New York.
In a moment of genuinely love driven panic, I asked him if he would retire in NYC or DC.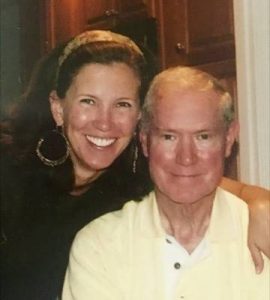 He said New York would forever be his home but he had built his entire adult life in Washington.
What a relief.
He wouldn't be leaving us.
What I never told my uncle was not only did my love for him drive my hope to care for him but so did the debt I felt I urgently wanted to repay.
As my mother's brother, he had far exceeded any average uncle duties. Quite the contrary, every time the five of us entered the room he lit up even if he had seen us moments before.
He watched out for our mom and he watched out for us.
Or what I should say is he showed his love for all of us.
He was a constant in our lives.
Quite a gift for children who would ultimately lose their dad in their day to day life and be raised by a single mom.
When the day finally arrived I begged to be the one who housed my uncle.
I think my aunts and other uncle felt it would be too much for me. I had my own family and young children. I truly believe they thought it would burden me. But this was a childhood promise I had made to myself.
And I would fight for the right to care for him.
I would fight for the privilege.
My brother and sisters were incredibly supportive.
They had cared for our mother.
An emotional debt I will owe them the rest of my life.
Because the debt we owe to the caregivers of our greatest loves is insurmountable. 
I had been young when our mother was sick and as the baby of the family, I found it overwhelming. My mom would come and stay with me for a few weeks and I would get her bathed and clothed and fed and then I would spend several hours crying myself to sleep. As older siblings, they seemed so much stronger and so much more capable.
So my brother and sisters bared the day to day with our one sister ultimately gifting us taking on the entire responsibility.
Something our brother never lost sight of.
Each year he texts her on the anniversary of our hugely substantial loss to thank her for caring for our mom.
When it came time to care for our uncle I believe we all knew on some level what one of our mother's best friend's had once told me.
I feared I had let my mother down.
That the avalanche of disabling tears brought on by her decline made me far less equipped than my older siblings to watch out for her – I should have done more.
As I sat at my mom's bedside the night she was called home, this dear family friend told me…
Every person steps up in the time they are called to.
We can't feel guilt over who did this and who did that. We find our own demand for presence when it is most needed.
So ultimately I got my wish.
My beloved uncle, the one who had stepped into our lives when he didn't have to, who had made us feel so incredibly loved came to live with me.
The first few weeks were tough.
He was up three to four times a night and with the broken sleep, I struggled to care for him and my kids and get through the day. We made the decision to get an outside caregiver in to get him through the night so I could manage everything else.
We settled comfortably into a routine.
My boys understood this was a time for increased self-sufficiency and increased love. They made me incredibly proud as they managed their school work and other responsibilities and still coveted the time where we would all come together around the dinner table, a movie or more.
At night after I got my uncle ready for bed they would come into his room for some prayer and a few songs as I sang him to sleep. On other nights, they would just listen to the sounds of a few Irish songs and Amazing Grace drift up and down the hallway while they were lulled into slumber.
Being a caregiver is challenging and for many, it lasts far longer than the coveted months I was gifted with my uncle.
Of course, having already lost my mom I viewed it somewhat differently.
I had walked these steps before. Scratch that. I had traced these steps before after my heroic brother and sisters. Therefore, I eagerly awaited this incredible opportunity I had been far too emotionally ill-equipped for in my youth.
I was now old enough to be tough enough to feed and care for one who had once extended the same loving tendencies towards me.
And no longer cry but smile through it because I am one of the lucky ones who got to repay an enormous emotional debt.
A few months before my uncle had to be moved to a nursing home he sat at my kitchen table. I made him the quintessential Irish feast. A cup of tea and a bit of sweets. In a moment never to be forgotten he gazed out the bay window and said…
"I'm happy here."
And with those three incredible words –
I knew I was able to return just a bit of what he had spent a lifetime giving me.
Follow me on Facebook @Colleen Orme National Columnist
(Photo Mine)
Instagram @colleenorme
Twitter @colleenorme
E-mail: Colleen.Sheehy.Orme@gmail.com