I punch the keys and sip my coffee. Tears find their way down my cheeks. I dab at them as my chocolate lab Hazel snuggles closer to my feet.
I find myself chuckling.
In between the tears, that is. I am editing my own work. Am I that good I writer I could move myself to liquid emotion? Or is this evil word they call 'divorce' really the culprit? I'm fairly certain it's the latter but it would be nice to think my writing skills are owed the honor.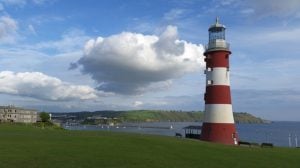 I keep swiping the keys as I swipe my tears.
I am writing this column.
Yes, something beautiful has come from ugly. The type of silver lining we hold onto in the dark.
There is a quote by Jon Acuff – "When you refuse to hide your scars they become a lighthouse for someone else."
I never sought to be a lighthouse.
I just knew I in my own pain I had searched for one to no avail.
It's not popular to be single in suburbia.
This is my home, yet I feel as though I have lost my people. I made this choice myself. I wanted a divorce. I just never realized the number of people I would be divorcing. No one tells you that. Well, one friend tried to tell me. You think you are exiting a tired relationship, not an entire town.
Yet, I am getting to a place where I am comfortable being uncomfortable.
There is no middle of the road in divorce.
It's like football.
If you're a die-hard fan there can be only one team which has your loyalty.
I once brought my children to an Eagle's game in Philadelphia.
My children think they grew up in Philly.
We went with our friends who touted Redskins Jerseys. Anyone who knows anything about Philly knows the fans are brutal.
Funny, in Philadelphia, I think they call it being 'loyal.'
Sure enough, it's not long before shouts of profanity fill the air.
"Mom," implores my son. "Why are they yelling at me? I am one of them!"
The problem was he wasn't wearing their jersey. If they couldn't identify him in green and black they had no use for him. It's a culture. You're either one of them or your not.
Divorce is sorta like that.
Only to be fair, it's far scarier to be in Philly sans the green and black.
So essentially, I'm in suburbia minus my jersey.
No longer identified as a team.
The married in my life are wonderful. I'm just no longer one of them.
Sometimes even writers like me have a hard time exposing the truth.
Acknowledging I am now comfortable being uncomfortable.
There are, however, others out there like me.
The uncomfortable ones looking for their lighthouse.
And I'm comfortable being that light.
Hazel gets up, circles a few times and falls back into a snooze.
Sure, sometimes I still feel naked without my jersey, but it happens less and less.
And it let's face it. It could be worse.
I could be surrounded by the 'loyal' fans.
I could be divorcing in Philly.
Follow me on Facebook @Colleen Orme National Columnist
Photo courtesy of Pexels
on Twitter @colleenorme
on Pinterest @colleensheehyorme
E-mail: Colleen.Sheehy.Orme@gmail.com