You never quite know where inspiration will hail from.
Even the front seat view of a drive-thru Mcdonald's.
I couldn't help but think…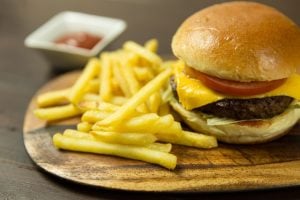 My relationship was more like a fast food drive-thru than a sit-down diner.
There is nothing like a good analogy though I'm sure you didn't see fast food dining meets relationships coming your way. In my defense, my world is fairly love and relationship-centric. It's always on my mind and I give myself additional kudos for once, not having food on the brain.
Here's the thing…
My marriage was the ultimate drive-thru.
I would pull my chair up next to my husband and deliver shall we say my 'emotional order.' 
And he would respond back with a, "Do you need ketchup with that? Do you want a small or a large? Do you need a straw? Here's your total."
Okay, well not those exact words.
He would actually say, "Why do you care? I'm tired. Let's talk in the morning?" Are we done?"
Just like that, the transaction was complete.
I spoke and I got my order and I pulled my chair away.
There would be no waiter coming back to the table to repeatedly ask if everything was going okay or if I needed anything or if I was satisfied with my meal? There would be no savoring. No lingering. No intimate conversation. There would be no continual back and forth.
There was simply no time for an emotional transaction. 
Food does super well in the drive-thru lane – marriages not so much.
Some things just don't lend themselves towards convenience.
Ultimately, my relationship may have spoiled (how could I not use a food pun??) but NOT my love affair with McDonald's.
Can you blame me? There's nothing like those yummy Mc'fries!
I just prefer my drive-thru's to touch my stomach, not my heart.
Follow me on Facebook @Colleen Orme National Columnist
Photo courtesy of Pexels
on Twitter @colleenorme
on Pinterest @colleensheehyorme
E-mail: Colleen.Sheehy.Orme@gmail.com