The day after I retain my attorney I am singing in the shower. My first thought – oh my gosh, I remember this! I always used to sing in the shower. I had forgotten.
I tell my sister.
"That's nice," she says. "Only it's going to get so much worse before it gets better."
My sister has been here and she was right. Only even she could not have foreseen the road ahead of me. It's hard to become instantly happy in divorce for several reasons. It's just plain unruly and in my opinion unregulated. It also, as I have said before, is simply an extension of the misery in the marriage.
Unhappiness will knock on all of our doors – just in different shapes and forms.
If you don't open the door and let it in then it will wait for you. Unhappiness has a lot of patience. It will sit outside of your door and freeze in the snow, get soaked in the rain, or blister and wilt in the heat.
If you try and go out the back door and avoid it then it will follow you. It is a supreme and seasoned hitchhiker. Unhappiness will happily relocate with you.
I am a fixer, a pleaser and a problem solver (something I knew about myself and my marriage counselor confirmed).
Therefore, I usually welcomed unhappiness inside, let it deliver its message, let it linger a bit, fed it some more of my heart and then wished it well and turned the porch light off.
The problem is that fixers often fix their own problems, but they often attract themselves in relationships to those who cannot.
I kept opening both my door and my husband's door when unhappiness came calling.
I tried for a long time entertaining both his unhappiness and mine. Like the green blob of mucus in the MucinexDM commercials his kept showing up again. Since he wasn't treating any of his symptoms. Pretty soon his mucus blob was following me around. A happy hitchhiker.
We all have to answer our own 'unhappiness knock' or things simply don't get better.
The more you don't address unhappiness the more it attaches itself to you. It gets bigger and bigger and then it becomes other peoples problem. Why? Because at first unhappiness shows up somewhat quietly and the more it's ignored it goes all out temper tantrum, late night partier, cry baby on you.
The fact that I am a fixer actually 'enabled' (oops there's that word again) me to fix both of our problems for a while. However, I soon became exhausted and started to feel unhappy myself.
I always say there's nothing wrong with unhappiness. It's a fact of life. What is wrong is avoiding it, denying it or taking it out on others.
Unhappiness needs to be entertained; ignored, it will become a houseguest that never leaves.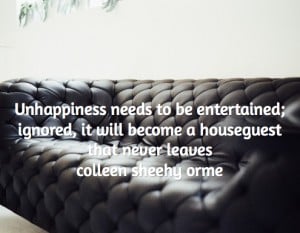 Follow me on Facebook @Colleen Sheehy Orme
on Twitter @colleenorme
on Pinterest @colleensheehyorme
E-mail: Colleen.Sheehy.Orme@gmail.com
www.colleensheehyorme.com