Any one who knows me will tell you that I have always been a cup is half full kinda girl. They will also tell you that my cup went from 'runneth over' to spilled, dumped, evaporated or a liquid 'desert.'
I went from emotionally hydrated to emotionally dehydrated.
It has taken me a long time to let go of my 'old' fairy tale.
I am letting it go much like the balloons that flew towards the sky celebrating beginnings on my wedding day. I am symbolically allowing the strings to slip through my fingers of the emotional, imaginary balloons that signify endings.
I will admit, as I sit in my favorite coffee shop (Katie's) and type these words that the lump in my throat is bubbling up towards that same sky. I will also divulge that while I break for a sip of my decaf coffee, the tears in my eyes (what appears to have remained the only hydrated part of my body) are peeking through.
Hans C. Anderson once said, "Life itself is the most wonderful fairy tale."
The cup is half full kinda girl in me still believes that. I just need to pick my cup back up and refill it.
There will be new fairy tales.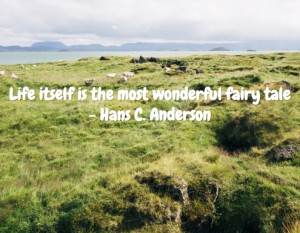 Follow me on Facebook @Colleen Sheehy Orme
on Twitter @colleenorme
on Pinterest @colleensheehyorme
E-mail: Colleen.Sheehy.Orme@gmail.com
www.colleensheehyorme.com