I squeeze beside my sister on the couch. Kathy's new house overflows with moving boxes. I watch as she sifts through a bag of objects. She snatches an item, inspects it, and then directs it to the proper pile.
I am eager to see what will stay and what will go. The younger sister, I am well accustomed to the opportunity before me and no stranger to the treasure of hand me downs. I catch a glimpse of a small, tan object. I grab for it as it slips through my sister's hand.
"What will you do with it?" questions Kathy.
At nineteen, I certainly do not know what I will do with this particular item.
I tuck it inside my purse, laugh, and turn towards Kathy.
"I'm not sure," I respond. "Only I am pretty certain that nothing good can come from getting rid of something that says, "The Lord Is Good," on it."
I hug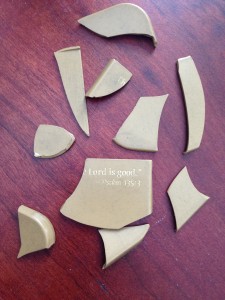 Kathy and walk towards the car. I toss several moving blankets into the backseat and I am on my way. I am tired. The summer has been long. I am working two jobs to pay for college and taking a night class.
It is the early morning hours of that evening, that I fall asleep at the wheel.
I hit a few small trees.
The next thing I remember is waking up in the backseat of the car. The engine screams a horrific banter. I struggle to turn the car off.
I collapse into the backseat until firefighters and noise from the 'jaws of life' wake me. I worry that my brother may be here to rescue me. Fortunately, he is not on call.
"Honey, who was driving this car?" asks one of the firefighters.
"I was driving this car," I reply.
"Honey, who was driving this car?" he questions me again and then a third time.
"Honey, I WAS driving this car," I quip with exhaustion.
Only then do they stop searching the site for another person because they are confused to find me in the backseat.
They are finally able to extricate me. I am on a stretcher in the street and a policeman glances down at me.
"I didn't think they were going to pull anyone alive out of that car," he says.
The ambulance pulls into the hospital. My poor mother how it hurts to see the look on her face. They wheel me into the room as I hear my mom whisper for the name of a good plastic surgeon.
They tell my mom that I will either have severe internal injuries, brain damage, or be paralyzed. I'm sure in many ways they were going on the sheer impact of the accident.
I do in fact, have several fractured vertebrae, a concussion, a nerve in my left hand has been nearly severed, swelling, bruises, and cuts. My family will not show me a mirror.
I defy the odds. I am thrown to the backseat and would have been crushed had I not been. I hit the visor mirror only I am not wearing my contacts I am wearing my glasses so the glass goes in my face and not my eyes. The moving blankets in the backseat serve as somewhat of a cushion when I am thrown back there.
My brother had walked the scene of the accident and enters my hospital room. Billy opens his hand to expose the broken plastic that he holds. There, with much awe and wonder, I feast my eyes upon the many broken fragments of the small, tan object. The plastic case that once held scissors is now shattered.
There among the many is one piece, still intact, that reads, "The Lord Is Good."
It is what SQuire Rushnell, author of the "When God Winks" series, would call a "Godwink."
My purse still carries the remnants of that small, tan object.
When I was once again reminded, "The Lord is Good."
http://www.amazon.com/When-God-Winks-You-Coincidence/dp/0785218920/ref=sr_1_2?s=books&ie=UTF8&qid=1428503317&sr=1-2&keywords=when+god+winks
(Note: As a writer, this is the only time a book moved me so deeply that I immediately bought a dozen copies to give to people)
A Link to "When God Winks at You: How God Speaks Directly to You Through the Power of Coincidence."
GODwinks Facebook Page: https://www.facebook.com/GODwinks?fref=ts
I'm contributing pieces on Family Today and Medium. Follow me below. #WomanResurrected
Follow me on Instagram @colleenorme
Facebook @Colleen Orme National Columnist
#WomanResurrected
E-mail: Colleen.Sheehy.Orme@gmail.com