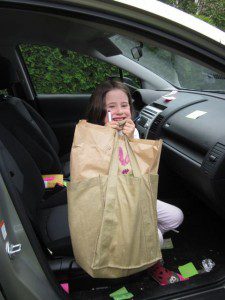 Today I sent my kindergarten students home with a shopping bag full of their creations – lots of drawings, quite a few stories, some paintings, some collages, and prints, and, yes, a few math and spelling worksheets for good measure. (You know how Ramona sometimes wants to be allowed to color? Sometimes kids really just want to be allowed to do worksheets.)
As a parent, I never am sure what to do with all this stuff. I'm not a packrat, or a scrapbooker, and I'm not organized  enough (or interested enough) to save every single thing my kid makes. On the other hand, I know their work is valuable I want to know more about the stories behind these reams of paper.
Here's an email I sent to the parents of my kindergarteners with some suggestions about working your way through the morass of paper:
Dear Families
Your child is coming home with a big bag of work today. As a parent, I know it can be overwhelming to know what do to with all this stuff, so I wanted to share a few suggestions.
1 – Don't go through the material in one sitting! But do go through it – WITH your child. Find times to look through small selections of work and ask your child to tell you about what each item is. Ask questions – what was the activity? Which project did you enjoy the most? Why? How has your work changed since the beginning of kindergarten? Which materials did you like using best?
2. Choose several pieces of your child's art to put on display. Consider framing a special piece or two.
3. I've included a "Gan portfolio" in the bag – a file folder with your child's self portraits stapled to the cover (one from the first day of school and one from the last day of school.) After going through all the work, ask your child to select some work to save for his/her portflio. Then, feel free to recycle the rest without guilt!
Have a wonderful summer!
Morah Amy
What do you do with "all that stuff"?