This past Friday night I organized a shabbat dinner for the families of my kindergarten class. It was primarily a social event, but also a chance for parents to experience what the children have learned about shabbat over the course of their first year at a Jewish day school.
My favorite part of the evening was sharing the ritual of blessing children. I didn't grow up in an observant household, so I know first hand that many families who gather for a special dinner on Friday nights and recite blessings over candles, juice and challah, simply aren't familiar with this tradition. Even if they've seen the blessing in a siddur or bentsher, if they haven't seen it modeled at someone's table, they may have never considered reciting it. That's because on paper, the blessing is nice. But in person, it's irresistible.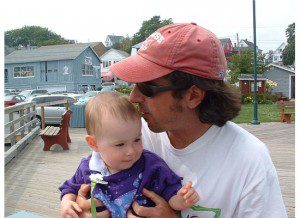 I remember clearly where I first fell in love with this tradition. When I was a student at Drisha, my hevruta Rose and her husband Morty frequently and graciously welcomed me to their shabbat table. Morty would call over each of their children, who at that time ranged in age from elementary school to college, one at a time and whisper a blessing in his or her ear. It was one of the most intimate and touching things I had ever witnessed between a parent and child. I especially loved seeing that the blessing followed the children into adolescence when such tender moments can be few and far between. Rose and Morty are grandparents now, but I'll bet they still whisper in their grown children's ears when they are together for shabbat.
They became my role models, and when our children were born, I modeled my own practice on theirs. I never knew if Morty whispered only the traditional blessing, or also added something personal, but in our home, I recite the Hebrew blessing and then tell each of them something I'm proud of from the past week. I encourage my husband to do the same. Our children's faces light up as brightly as our freshly lit shabbat candles each time they hear their personal blessing.
In truth, I'm hardly in position to be a role model for shabbat practice the way Rose and Morty were for me. But, this was an opportunity I couldn't let pass. Just before kiddush, I explained the tradition and passed out the "little blue books." I called over my own children and blessed them. Then I demanded gently suggested that every parent call over his/her children and try some kind of blessing – traditional, spontaneous, original, whatever.
Those of us with young children might find plenty of opportunities to snuggle with our kids and tell them how much we love them. But with the tween years right around the corner, I know that these spontaneous moments of intimacy may slip away. By making this sacred ritual a fixed part of our week, I know that they will never disappear entirely. I hope that this past Friday night I planted the seed for a few more families to take on this mitzvah.
Want to read more about blessing your child? Here's a great piece from Kveller, and another from Aish.com.