My daughter Ella is turning eight this summer, and will not be receiving her monthly PJ Library fix much longer. She's also beginning to  consider herself too old for picture books. And while I disagree (I'm 43, and I still read picture books) I want to make sure she has plenty of age-appropriate chapter books to satisfy her reading fix. (She's one of those kids who tries to walk down the stairs without taking her nose out of a book.) I also want to make sure she continues to read Jewish books from time to time.
So, I've started looking for suggestions for Jewish middle grade books. I've given her All of a Kind Family and Hereville and I'm looking for a few more recommendations.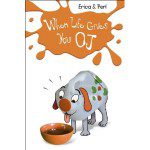 To get the ball rolling, I've got one of my own. I had the privilege of meeting Erica Perl when I went to NYC for the Jewish Book Council author event. She has a new novel called When Life Gives You OJ, about an eleven year old Jewish girl, Zelly, who is struggling to fit in after her family moves from Brooklyn to Vermont. More than anything, Zelly wants a dog, so her yiddish-spouting, eccentric, and very lovable grandfather concocts a scheme to help her convince her reluctant parents. It involves a jug of OJ,  a leash, and some very creative simulated dog-poop.
Ella is on the cusp of the tween years – just starting to be concerned with issues of cliques, embarrassing siblings and even-more embarrassing parents. This book captures that insecurity without plunging into the sturm und drang of popular young adult fiction. My only critique is that sometimes I felt the "Jewish" parts of the story weren't woven in as seamlessly as many of the other themes. I suspect that I this was a result of an editor's insistence that Erica add explanations to the Yiddish and cultural references. But it very nicely introduces an issue that Ella has no real experience of – not fitting in because you are Jewish. And, it's quite funny.
Here's Erica's book trailer. While we are on the topic of book trailers, did I mention I'm struggling to make one for my new book The Shabbat Princess, coming out in September? It's a lot harder than it looks, so I have great appreciation for Erica's work. And after watching, don't forget to weigh in on your recommendations. Thanks!