Mother's day is the one holiday I'm not in charge of. The reason I'm not in charge of it is because after our first child was born, I gave some explicit instructions to my husband. "You realize," I said, "that until the girls are much older you are going to be in charge of mother's day, right?" So far this has worked out pretty well. Surprisingly well, in fact, considering that my beloved husband is not much of holiday guy. Or much of a gift giving guy. (Hi, honey! I love you ANYWAY.)
While I don't want to be responsible for picking out my own mother's day gift, I'm happy to pick one out for you. So, I'm excited to offer a giveaway so enticing that I wish I could enter. (I can't.) Local artist Emily Rosenfeld, who creates all sorts of hip and affordable Judaica (and other usable art) out of pewter is offering a beautiful picture locket with a Jewish star on the front, and ahava, the Hebrew word for love, engraved inside.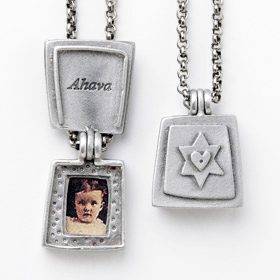 I have quite a bit of Emily's work in my home. I have her shabbat candlesticks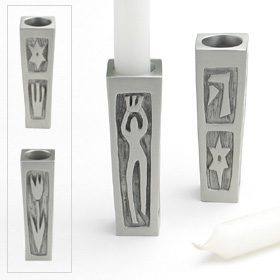 and a child's mezuzah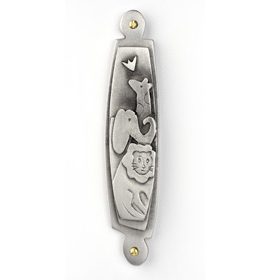 plus this cute peg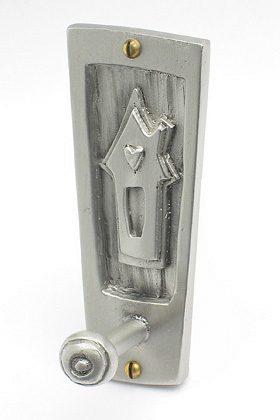 But my favorite item is a defective Miriam's Cup that my friend bought me at a seconds' sale, not noticing the little sign on it that said "unusable." Much to our surprise, the first time we filled it with water at the seder it spouted a tiny stream of water. Which to me, doesn't make in unusable. It makes it adorable. And a great seder prop.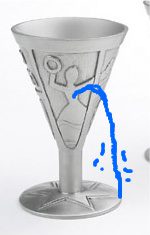 To enter this giveaway, tell me (at least) one thing you learned from your mother (Jewish or otherwise) that you are passing on (or trying to pass on) to your children. You have until the end of Mother's Day to enter, and I will select one commenter at random to win one of Emily's lockets. In the meantime, make sure to check out her site.
My friend Laurel Snyder also has a Mother's Day giveaway going on. Hers is a lot more creative because, well, she's Laurel. Go there to find out how to win a copy of Nosh, Shelp, Shluff, her new Yiddish board book.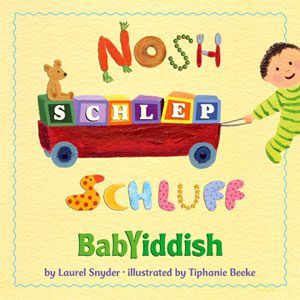 As if having those beautiful kids weren't enough of a gift…..
Happy Mother's Day!
ps, Please check out my latest piece on kveller.com. And if you've made it this far in the post, here's a secret. You get a second entry into my giveaway if you leave a comment on my essay there. (Shhhhh.)