Yesterday I played hooky from my real life. Instead of a kindergarten teacher and mother of two young daughters, I was an author presenting my new book, The Shabbat Princess, at the Jewish Book Council event in New York City. I stayed in a friend's gorgeous apartment on the Upper West Side (all by myself!), met my mother for an expensive dinner (thanks, mom!), and went to see an old friend play music at a dive bar. I even bought new clothes. Highly make-believe.
My task was to spend two minutes (and not a second more) pitching my book to the folks who run Jewish book fairs. I had to sell myself, and my book, to several hundred members of the Jewish Book Council network, and entice them to bring me to their city's book fair in the fall. Mind you, authors don't get paid for these gigs, so I'm not entirely clear why we're luring them. I think they should do the two minutes pitches, and we, the authors, should hand pick where we want to go.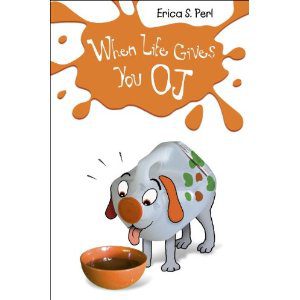 The best part of the event was hanging out with other writers. (Sadly, this part didn't last nearly long enough.) I met my friend and fellow author Lesley Simpson for coffee before the event, and went out for chocolate with a new writer-friend, Linda Elovitz Marshall. A bunch of us also hung out in the lobby chatting after the meet-the-author lunch. (Bonus: I got to sit next to the prolific Richard Michelson. He actually owns a gallery two miles from my house in Massachusetts, but I've always been too intimidated to introduce myself to him at home.)
I haven't had a chance to read any of the new books yet, but there were a few I'm especially excited to get my hands on. Keep your eyes opened for Talia and the Root Vegetables (I'm a sucker for picture books about gardens) and When Life Gives You OJ, a middle grade novel by Erica Perl. Although my eight year old hasn't even delved into Harry Potter yet, I'm looking forward to her reading The Inquisitor's Apprentice, by Chris Moriarty, with a nice Jewish boy for a young wizard.
I know I will never get rich writing Jewish children's books, but I'm so much richer for the experience of being an author. What a great pretend life to have!