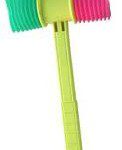 Yom Ha-atzmaut was sort of a wash for my family. My older daughter, Ella, woke up with a fever, and I stayed home from school with her. So, no bopping anyone on the head with a plastic hammer…..I wonder if we can try importing that tradition for the Fourth of July?
Since sick days mean loads of tv in our house, I thought I'd put on the latest dvd from Shalom Sesame, Grover Learns Hebrew. My whole family loved the Passover episode, so I was eager to check this one out and infuse our sick house with a little Yom Haaztmaut feeling. (Plus, I was asked to review it.)
There are some very cute pieces in this episode. My favorite was the gorgeous animated exploration of onomonopia in Hebrew (such words as bakbuk/bottle and rishrush/rustling. I also loved the biography of Eliezer Ben Yehuda, the father of Modern Hebrew, which I've embedded at the end of the post.
My kids liked the whole video. And while I found the whole thing entertaining and of high quality, it wasn't as focused on the theme of Hebrew as I had hoped. There were several English songs about what makes a family, one of which was very cute and one of which featured some really insufferable children's singing voices. There was also a seemingly random bit about Zoe learning to spell her name. Also in English. (And a big hit with my younger daughter, also named Zoe.) And sadly, not even a glimpse of Jake Gyllenhaal.
If you are looking to entertain your kids, I certainly recommend this video. If you are looking to assuage your guilt for not doing anything for Israeli Independence Day, check out some of these other excellent Shalom Sesame Israel videos, all found on their website.
As promised, here's a little story about Eliezer Ben-Yehuda-
Disclosure: I received a free copy of Grover Learns Hebrew from Shalom Sesame. I do not review all products that I receive, I do not write positive reviews unless I mean it.