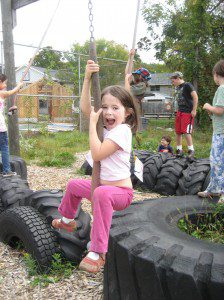 This past weekend, my kids had the opportunity to spend part of shabbat with the wonderful folks at Eden Village Camp during their first family camp of the season.  I love sleepaway camp, and I especially love Eden Village. For me, it's the perfect mix of traditional Judaism, environmental values, and smelly hippies. Topped off with great food. Seriously, what sleepaway camp do you know of that has great food?
I'm hoping that by participating in some of the family programs run at Eden Village, my kids will embrace the idea of going to sleepaway camp, and feel right at home at Eden Village when the time comes. (Ella could technically attend this summer, but at 8, she's just not ready.) They spent the day wandering through rows of organic vegetables, speeding up and down a zip line, laughing through the Torah service skits, paddling on a canoe, and discovering the joys of a screen-free shabbat (which I know I should be providing them with every week. Sigh.) They had an amazing time and didn't want to leave.
I hope this visit and our visit on Sukkot have helped my kids start imagining themselves as Eden Village campers. I also think they are learning something about Judaism that I can't teach them at home – that communal Judaism at its best (and camp really is its best) is even better than homeshuling (though campshuling is nowhere near as good of a blog name.) My girls got to do things they loved – singing Jewish songs, doing havdallah around a campfire, acting out Shabbat stories on stage with friends (more about that later) – and every single activity was richer and more positive because it was shared with others. We might not always find fun, joyful community in shul, but it's nice to be reminded that we can find it somewhere.
And while the girls had a lot of fun, I probably had the most fun of all. I saw some old friends, I met a friend (and her two gorgeous daughters) whom I previously only "knew" from facebook and blogging, and made some new friends. I read A Mezuzah on the Door to a group of kids, and was corrected by a child who knew the book by heart when I skipped a line, and I shared my new book, which the kids and staff promptly turned into skits. I got to say to my kids – yes, go ahead, I'll meet you there – and know that they were safe as they walked away. I even had the experience of sitting through a Shabbat service that my kids actually enjoyed (or at least didn't mind.) Shehechiyanu.
Want to go to family camp too? (You know you do!) Here's the lowdown on the second session. I wish I could say I'll see you there, but much to our dismay, I have to work on two of those days. We'll be on the lookout for more family programs in the Fall and I'll be sure to post about them here.