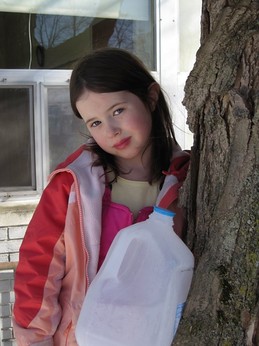 I teach Kindergarten at the day school in our town, where my children attend Kindergarten and Second grade. On Tu B'shevat, we began a science unit about trees. As a culminating activity, this week we tapped two sugar maple trees, and have been gathering gallons of sap to boil down for maple syrup. I'm not sure I've ever seen my students more excited than the moment when we tapped the first tree and the sap literally burst out of the hole, like a horizontal Old Faithful.
The trees are on the periphery of the parking lot we share with the synagogue. I showed the Religious School director, the tapped trees, which are gushing with more sap than we can possibly use in the Gan.
"I wish we could do something with these in our school," she sighed. "But what's Jewish about it?"
As a day school educator, almost everything is Jewish about this experience. Reciting a shehecheyanu when we have our first syrup of the season, using the syrup to make treats for our Purim baskets, and just the sheer wonder of God's creation. But that's because I have the luxury (and I do mean luxury) of spending 35 hours a week with my students. We can weave Judaism into almost everything we do, if we choose to.
For our supplementary school director, who is a fine educator, it's not so simple. If her teachers see children for only four hours a week, can she justify spending an hour of that time collecting and boiling down sap? Even if it's one of the high points of a child's year? Probably not.
Just another reason I'm sold on Jewish day school for my children's elementary school years. I've written about some others
here
, and
here
, and
here
.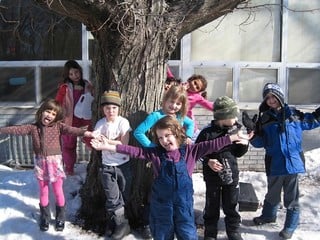 Which is not to say that we only do Jewish…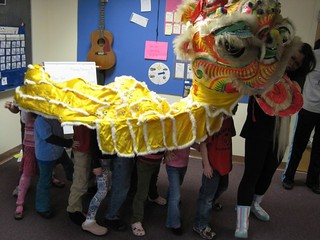 (although we did compare Chinese New Year celebrations to Jewish New year celebrations.)
Have you chosen Jewish day school for your children? Or have you chosen another route? I'd love to hear about your choices, and why/how you made them. Leave a comment, why don't you?