I'm excited to share this guest post and giveaway from Tanya Tolchin. Tanya is a manager at Israeli Harvest, a farmer at Jug Bay Market Garden, a writer, an environmentalist and most importantly a mom. She has a new blog: On the Lettuce Edge.
Thanks to Amy at Homeshuling for inviting this new blogger and fellow Jewish mom to post here. So what do you get when American Jewish farmers and Israeli kibbutzniks work together? If you said boxes of natural Israeli foods delivered to your door, kol hakavod, you are right!
When I am not caring for with my children or helping on my family farm, I am helping to build Israeli Harvest. Israeli Harvest aims to support farming in Israel by offering unique Israeli farm products in the US. My husband and I both worked on kibbutz after college and fell in love with Israel. We started Israeli Harvest to support Israeli farms and create a stronger kesher or connection to Israel despite deciding to settle on a farm in Maryland.
We offer carefully selected natural and organic Israeli products to customers in the Washington DC area and by mail anywhere in the US. Our most popular product is the giant and amazing organic medjool dates. We are currently taking orders for Purim gift boxes which contain these dates, fig jams and olive oil.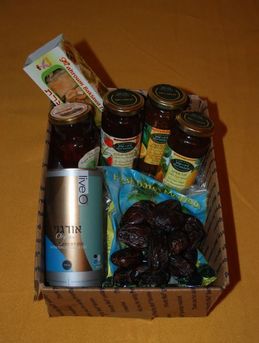 In addition, we have a new DSA (Diaspora Supported Agriculture) program, modeled after vegetable CSA subscriptions, where members receive boxes of Israeli treats before four major Jewish holidays. You can read more about what we offer on our website. The Washington Jewish Week recently wrote a story about Israeli Harvest which you can read here: Cultivating a taste for Israel, Farm couple aims to expand Diaspora market.
And now…drum roll please…for the giveaway.
We would like to offer a lucky Homeshuling reader a taste of our products. Please leave a comment on this post and we will choose somebody at random to receive one of our Purim baskets. We will post the winner on Homeshsuling on March 10. (Shipment to addresses only within the continental United States.)
Finally, I would like to invite readers to visit my new blog, On The Lettuce Edge, where I write about farming, parenting, sewing and Jewish life. I welcome feedback and would love to find a few more regular writers. Let me know if you are interested.
Thanks again to Amy for giving us the chance to promote Israeli Harvest here.