Mahatma Ghandi once said, "Be the change you want to see in the world." While I fall woefully short of fulfilling this mandate, I do tend to be the Jewish education I want to see in the world. In the early 90's, when I wanted a way to merge my work as an environmental educator with my growing interest in Judaism, I pitched, developed, and ran the first season of the Teva Learning Center, where I could do just that. When Ella was a toddler, and I wanted her to know Jewish songs as well as she knew all the songs on her Music Together cd, I approached our local music school and helped them develop a pilot Jewish music program for babies and toddlers. Last year, after a visit to the Eric Carle museum on Valentine's Day, I decided I wanted my kids to have a chance to do great art projects while exploring Jewish holiday themes. So, I wrote a grant with a local art educator and ran a series of Jewish holiday art workshops.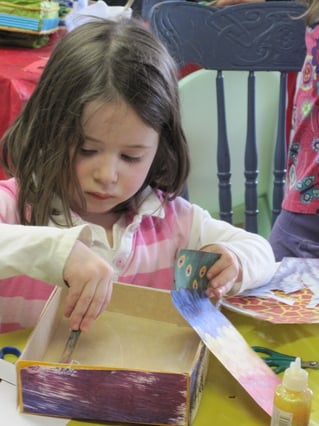 This will be my second year of conducting art workshops with the talented and definitely-not-cookie-cutter-art-making Lindsay Fogg Willits, at her gorgeous studio
Art-Always
in Northampton, Massachusetts. On November 21, from 1-3, we'll be learning a little bit about hanukkah traditions, and creating beautiful hanukkah cards and window decorations out of a variety of media. I promise it will be fun. Wouldn't you love to come join us?
The projects are appropriate for ages five through adult (really) and the charge is $25 for each parent/child pair, with a $10 fee for each additional family member. Pre-registration is required at the
Art-Always
website. Did I mention that these are funded in part by the Harold Grinspoon Foundation Arts and Culture Initiative? I hope so, because it's a requirement of the grant.
Hope to see some of you there!