As I've written before, my girls are fascinated by Christmas. I don't blame them – it's sparkly, sweet and mysterious, and it's practically everywhere, at least after the Halloween decorations come down. As part of an interfaith family, I used to stress out about this; you can read my post from last year about the time I found them "playing Christians." Might they someday insist on honoring this part of their heritage? Would they be justified in that demand? These days, I don't worry (about this) so much. The stronger their Jewish identity has become, and the more positive associations they have with our own traditions, the less I worry about exposing them to all of the glitz and finery of Christmas.
My husband's parents, who are Catholic, invite us every year for dinner on Christmas eve. They make a
traditional seafood stew
for themselves and my husband, and salmon for me and the girls. Ella and Zoe get to ooh and ahh over the tree, eat Christmas cookies, and receive (more) presents. Last year, they asked if they could help decorate Grandma and Pip's tree. We found a recipe for cinnamon dough, and worked carefully on a set of handmade ornaments to contribute.
I always longed to participate in Christmas as a kid. But with no family or close family friends who were Christian, I was never invited. Which left me feeling left out of something that seemed amazing, and taboo. In a way, I realize that my kids are lucky to be part of an interfaith family. They get a lot of joy out of contributing to someone else's celebration of Christmas, without envying the holiday or confusing it as their own.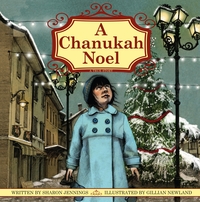 Perhaps that's why I was so taken with a new book,
A Chanukah Noel
, recently sent to me by Second Story Press. It's a true story about a young girl who moves to France and, as the only Jew in her community, longs to participate in Christmas. Her family's resolution to this dilemma evokes our own family's, but adds an important lesson about tzedakah to boot. I highly recommend this book, and not just for interfaith families.
Not totally convinced you'll love the book too? Well, here's your chance to win the book instead of buy it. Second Story Press has offered a copy to one lucky reader. I'll be selecting a reader at random – in order to participate you simply need to leave a comment below, that tells us a little bit about either your relationship to Christmas as a child, or your own children's feelings about the holiday. I'll be choosing a winner next Sunday morning.