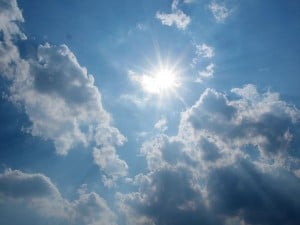 I've been in a reflective space today and have been thinking about dying and the soul and the other side and why we're here and why we leave when we do.
Do you ever have those days? I call them my "seeker" days – where these deeper thoughts are at the forefront of my mind and at the tip of my heart.
I think about all of the amazing people in our world who have passed onto the other side. I think about how many of them were ready to go and how many of them wanted to stay. I think about how many of them had time to process that they were leaving and how many transitioned to the other side before they even realized it – not having had the chance to say goodbye to their loved ones.
Death can seem messy and unplanned and tragic and extremely sad. And I started to think that these are words that my human self is using to describe this natural part of our time here on Earth.
From our soul's perspective, I know that there is no such thing as death – there is only a transition from one realm to another. And so, when one of our loved ones die here on Earth, I believe that it is only their physical body that dies. Their soul floats away from it and continues on somewhere else.
And this brings me so much comfort. Just like you, I have lost loved ones throughout my journey here on Earth. And each time it happens, I am so very sad and long to bring them back. I long for our moments together to stand still in time. I wish that we could go on together like that forever. And I'm always terribly sad when I realize that I will never see them here on Earth again. That I will never hear them laugh again. Or see them smile again. My heart breaks that time in their physical body is over. That they will not grow older. That they will not do the things that they wanted to still do. Their time as they knew it had ended.
And this is so painful to think about. My human self mourns and grieves and cries. Which is all exactly what a human is supposed to do. It's normal to long for things to remain the same. It's normal for us to wish that our loved ones would never leave us.
But that's just not the way things work, right?
And so when I'm grieving for those who have gone before me, something that helps me tremendously is to span out – away from my physical body and my mind and even my heart – and expand into my soul. This is the part that is connected to the universe and to the afterlife and to everything. This is the part that goes on and that is connected to all of the other lives that are also eternal.
And in doing this, I remember that we never die. I remember that we are always together. I remember that death is a transition. I remember that our time here on Earth is just a blip of time along the entire spectrum of our soul's life. I remember that I can reach out to my loved ones at any moment and talk to them, listen to them, be with them. I remember that we have all chosen to be here, and we have all chosen when and how we will leave. I remember that our time here on Earth is a beautiful journey – one to be embraced and celebrated. I remember that we are all made of pure love, and we will all return to pure love when we leave this world.
And while remembering these things doesn't take away my pain completely, it definitely does bring some comfort to me.
We're always together, and while we may not currently understand why it was our loved one's time to transition to the other side, just knowing that there is a plan and a purpose and life after death helps me so much.
I hope that it brings comfort to you as well when you are missing your loved ones.
Hugs,
Jodi

Jodi Chapman is a bestselling author, an award-winning blogger, and a soulful community builder. She lives her life with love and faith in the driver's seat, and she hopes to leave a trail of inspiration wherever she goes. She believes that we each have the ability to hear our soul's whisper and create our best lives. She would love to connect with you!
Website   ♥   Facebook   ♥   Soul Shakers Sale    ♥   Free Ebook   ♥   Free Meditation