"True bliss is to remain open—as you are—in the midst of all experience, both heavenly and hellish."
From 'Blue Truth' by David Deida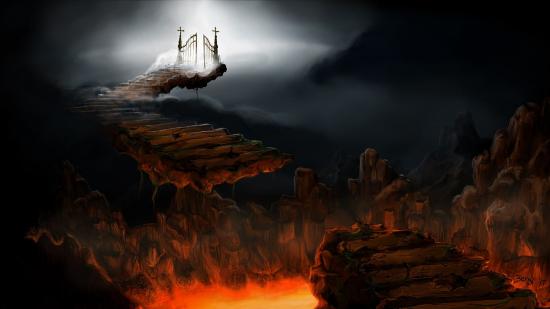 Joy and fulfilment often come after despair, as our life inevitably changes. Then it becomes easier to acknowledge the sacred gift of life and to appreciate and respect it for its ups and downs. The gift of life is within all experiences although we may seek to deny and escape that, or the pain may become too overwhelming. We are not here to merely experience joy.
The light and the dark and the polarities are ever-present in potentiality, and often on our beloved planet Earth, in plain sight of anyone who is looking.
It is absolutely normal to see what we have as incomplete and seek to change it or escape it. How often were we taught to be satisfied with what we have? I remember education being more about striving to reach goals and accomplish targets, than about becoming educated or learning to think for oneself. The goal (destination) was highlighted much more than the journey. In fact if people could take short-cuts to success, that was even encouraged.
It is when we suffer deeply that we realise that just living without pain for instance is a wonderful gift. Just being able to move around relatively freely is a truly magnificent gift.
Many people point at others and see others as more important, more talented, more gifted, more advantaged, more lucky, more wealthy, more privileged, better looking, younger (etcetera). Everyone else has something special yet when we always place others on a pedestal, it can also act to detract from ourselves, reduce our status, and our ability to love and appreciate what we have. We also lose sight of the gift of life. The very fact that we are here as souls to experience earthly existence in this transitory and epic times, is something not afforded to everyone.
Remembering we are Source, we are Source energy, divine beings here to experience this world of co-creation. We are here to experience all colours of the rainbow, and all emotions. We are here to experience the depths of pain and suffering, as well as the ecstatic joy of the highest realm we may embody.
How are we viewing our lives? Do we have a perspective on suffering?
Don't let circumstances dictate when you will appreciate and develop the gifts you've been given.
---
Reclaim your divinity – be the love you wish to find in the world.
---
Featured Image via: Pixabay
You are awesome as you are, and I love you! And if you love me back, please click 'share' up at the top!
Please follow me on Facebook: davidstarlyte and Instagram: davidstarlyte
New Meditation Transmissions available: Free Meditation Channel:
Starlyte Meditation: please subscribe for free updates.