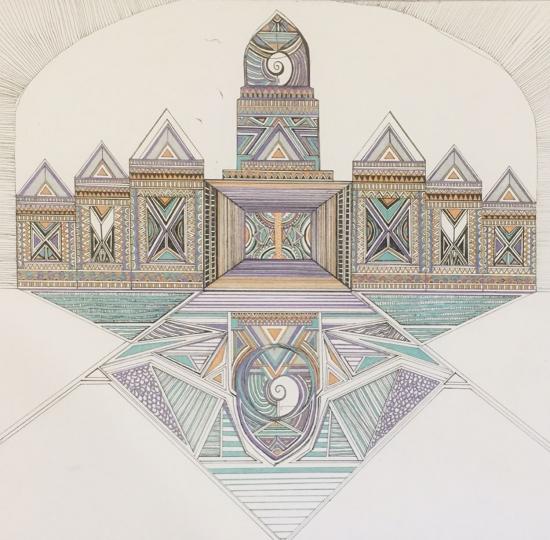 Welcome inside the temple of the soul. When you are ready to step through the portal, first remove the final obstacles to inner peace, fear and resentment. Invite the presence of angels.
My artwork is designed as a gateway to be used as a meditation tool. This work is a tribute to all humanity and the evolution happening within our consciousness. My ultimate goal is the liberation of the soul.
I invite you to rise up if you hear the call or open your heart to listen and act from a deep place of stillness. The key is effortless alchemy – energetically lifting off from the shackles of the old energies. We no longer need to live in fear or with a poverty mindset – our bodies are healing, our DNA is being upgraded and our consciousness raised to the stars. These processes are done when accepting that they are done, without "trying."
Stepping forward now… ascending through the gateway of our fears and false beliefs, releasing all our clouded and emotional heaviness, we become clear vessels.
It is always a journey and there are always more levels to clear as we forgive and embrace all parts of our soul journey. Let all the fragments and all the lost parts of ourselves be retrieved and integrated into ourselves as wholeness. Then we are ready to love wholeheartedly and to walk through the portal.
With love always
David
PS. I am available for commissions. If you enjoyed my art and are interested in inviting me to collaborate or be an artist in residence, please send me an email:
---
Be the love you wish to see in the world – David Star'lyte
---
Featured Image: original art by the author via: David Star'lyte Spiritual Art
You are awesome as you are, and I love you! And if you love me back, please click 'share' up at the top!
Please follow me on Facebook: davidstarlyte and Instagram: davidstarlyte
New Meditation Transmissions available: Free Meditation Channel:
Starlyte Meditation: please subscribe for free updates.