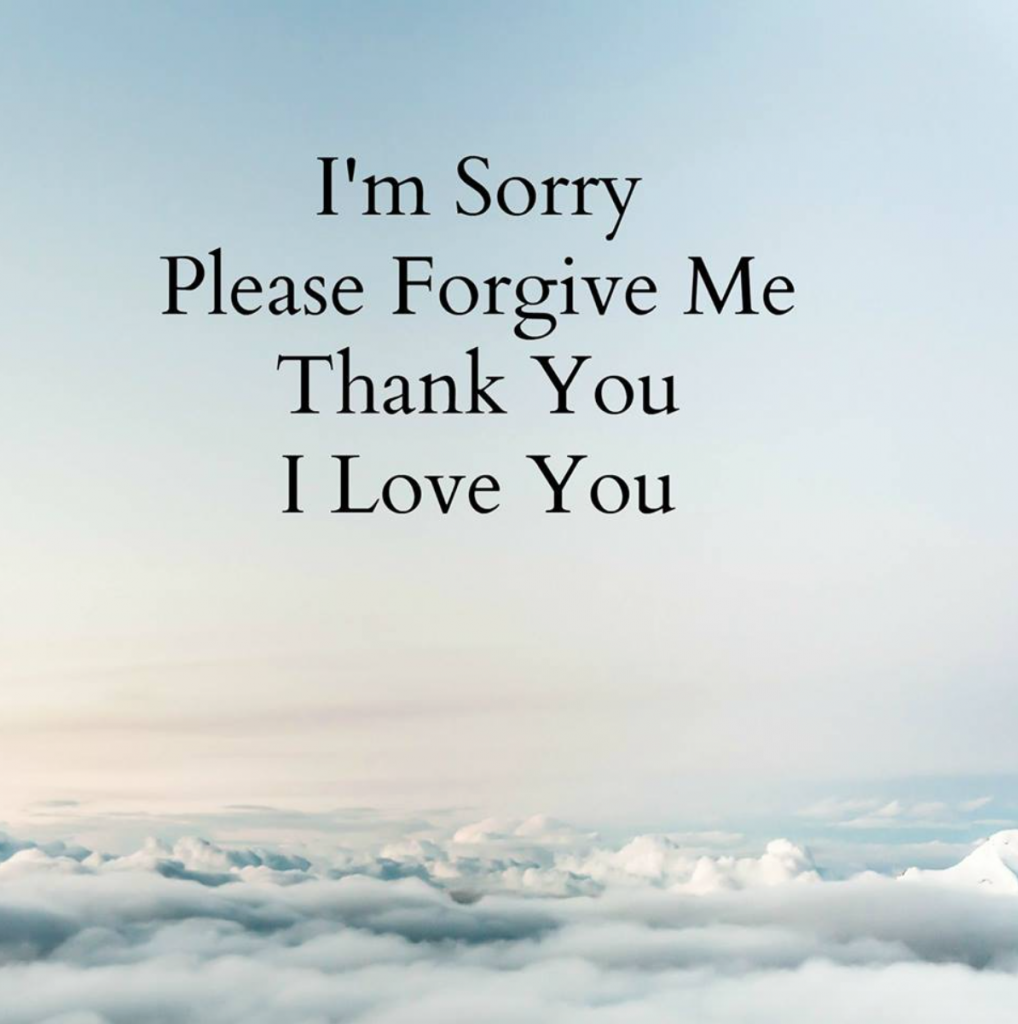 Beloved readers,
Many of you have asked me about the ancient Hawaiian Ho'oponopono prayer and how to practise it.
The practice of Ho'oponopono consists of four simple steps:
Step 1: Repentance – Say: 'I'M SORRY…'

Step 2: Ask Forgiveness – Say: 'PLEASE FORGIVE ME…'

Step 3: Gratitude – Say: 'THANK YOU…'

Step 4: Love – Say: 'I LOVE YOU…'
In using the prayer, let's say with the intention directed towards our own healing, is the prayer coming from the self, directed towards our being? Or is it from the opposite perspective, from being to self(ego)?
When you practise this prayer, how does it feel to you?
It's really important in any practice to allow the practice to be felt and to personalise that so it doesn't become rote.
Secondly, all of those directions are probable with the Hooponopono practice. There isn't actually a right way or wrong way to practice this prayer –
And that's important to highlight.
To whom is one directing the prayer?
Oneself?
Soul?
The universe?
Identity personality ego?
Some people find that it is a practice beyond boundaries as at different times, different feelings and notions arise. Over time, these may change.
As I said before, usually all of these answers will be discovered in the practice itself.
I have previously focused my prayer at many relationships –
With myself
And with others primarily:
Family members
Work colleagues
Significant others
Etc.
The ego is also not an enemy that needs derision and criticism – it is merely the personality form of the being. It's not actually something "bad" or sinful. It is simply by nature selfish. Which also links to most life forms on this planet which have a selfish quality and act out of self interest. That doesn't have to be a "negative" or a "positive" – it simply is.
Importantly that is what the prayer points towards –
Moving beyond mental torment into love. That is the ultimate gift of spirituality.
The prayer is personal.
And I would advice you to see it as personal and make it personal.
"I'm sorry" – to whom – to what. Why am I sorry? What have I done? What have I to be sorry for?
"Forgive me" – why do I need to be forgiven. Who or what am I asking forgiveness from? (Myself or others or both?)
"Thank you" – I see this as a prayer of gratitude to all that is (Source)
"I love you" – I see this as an expression of love for God, for all Creation and for the universe. I also see it as a declaration of love for myself.
These are just some of my thoughts –
I hope they help you.
May God bless you.
---
With love and gratitude,
David
---
Featured Image via: Ho'oponopono Ireland
You are awesome as you are, and I love you! And if you love me back, please click 'share' up at the top!
Please follow me on Facebook: davidstarlyte and Instagram: davidstarlyte
New Meditation Transmissions available: Free Meditation Channel:
Starlyte Meditation: please subscribe for free updates.