Thinking. It's something humans do a lot of. So much so, that most people don't even know what it's like to experience peace, stillness and quiet.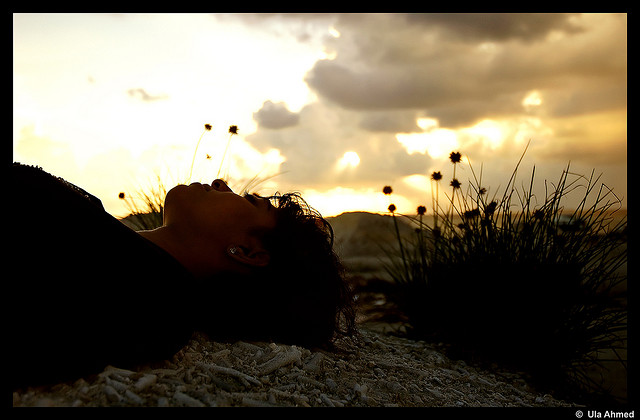 It's not important what you're thinking about. Thoughts are illusions which can be twisted and shaped.
It is important to know that thoughts have a destiny.
If your thoughts are out of control, don't let that rest. Create a new possibility…a new destination.
Thoughts are neither bad nor good, they just are. Don't give them more power or less power than they deserve. If they come when they're not invited, say 'thank you' to them and let them go. Don't fight thoughts.
Your every waking moment is at play in the fields of consciousness. Thoughts are not consciousness, but thoughts create consciousness. Your being is way beyond your thoughts.
The quality of your life, is equal to the quality of your thoughts. And yet true bliss lies beyond thought. Thoughts get in the way of love. Thoughts get in the way of awareness. Thoughts get in the way of prayer. Thoughts get in the way of being in the moment. Thoughts get in the way of ecstasy.
One of the clearest moments of bliss is the moment of orgasm, in which all thoughts are extinguished in a flood of feeling. This crescendo truly obliterates mind chatter. One experiences Oneness with the universe, and a greater awareness of one's true self.
If every moment was clear like the crystal waters of paradise, then we wouldn't have anything to do, but relax and enjoy heaven. This is not what Earth is about. This is a place of polarity, of yin-yang opposing forces, a place of change, passion, opportunity, and growth. It's a real cosmic laboratory!
Celebrate the opposites, don't be so hard on your thoughts. Let them pass and focus on creating more harmony in every waking moment.
Life is a journey – enjoy the ride. If you can gain control of your thoughts, then you have mastered your life.
Know yourself.
Be yourself.
Love yourself.
__________________________________________________________
Are you ready to take the next step?
Work with me! Interested in being coached by David…
I am looking for BOLD and INTREPID souls for whom NO is never ENOUGH,
for whom success is something beyond any material achievement, however wonderful they are. I work with those interested in the spiritual journey and being supported as a SOUL.
Please email – davidgarenson@gmail.com
Please follow me on FACEBOOK/davidarenson
__________________________________________________________
Photo Credits: Courtesy of Ula Ahmed: via Flickr
No Copyright Infringement Intended.
What do you think? Feel free to comment down below!
You are awesome as you are, and I love you!
And if you love me back, please click 'share' up at the top!

David G Arenson, Australia's Leading Soul-Coach – Spiritual Teacher, Naturopath, Energy Healer
Find out more about me: http://transformationalmedicine.net
Facebook: davidarenson