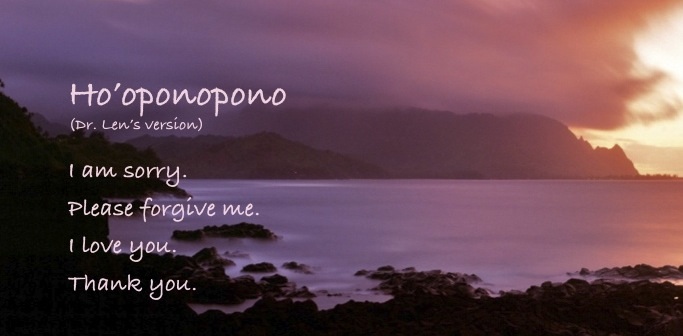 Ho'oponopono (ho-o-pono-pono) is an ancient Hawaiian prayer made up of four powerful phrases: "I am sorry. Please forgive me. Thank you. I love you."
I've used this successfully in the past, and will continue to do so. Who says one needs complicated practices!?
It promotes taking responsibility for everything in one's life and the whole world. It is a powerful forgiveness and letting go of the most challenging of life experiences.
When it comes to letting go of karmic attachments, and energetic cords, Ho'oponopono works, as it clears and integrates the energy. It is a balancing and co-ordinating vibration promoting both reconciliation and forgiveness.
Ho'oponopono means 'to make right' – it brings balance to the self and all relationships, even with one's ancestors.
"If we can accept that we are the sum total of all past thoughts, emotions, words, deeds and actions and that our present lives and choices are colored or shaded by this memory bank of the past, then we begin to see how a process of correcting or setting aright can change our lives, our families and our society."
– By Morrnah Nalamaku Simeona, a Hawaiian Kahuna Lapa'au
The Ho'oponopono Prayer can be offered to any aspect of life not working out or incomplete, past grievances especially involving people one hasn't forgiven, experiences one hasn't let go of, etc. One dedicates oneself sincerely from the heart and soul to each incident one can find, and to all people one has hurt and has been hurt by.
Once true forgiveness has arisen from the original state, one can find a new sense of wholeness and completion. A person may reprogram their brain to see their life and background in a whole new way. The practice can help see, dissolve and release old experiences – especially the roots of which came from childhood.
Say it over and over to let go of old baggage, resentment and negative energy:
"I am sorry.
Please forgive me.
Thank you.
I love you."
---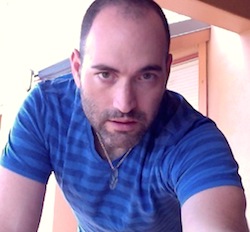 Are you ready to take the next step?
Work with me! Interested in being coached by David…
I am looking for BOLD and INTREPID souls for whom NO is never ENOUGH, for whom success is something beyond any material achievement (however WONDERFUL they are), for whom spiritual growth is a priority and NECESSITY.
Please email – davidgarenson@gmail.com
Please follow me on FACEBOOK/davidarenson
___________________________________________________________________
Photo Credits: Image by Doran Yount.
No Copyright Infringement Intended.
What do you think? Feel free to comment down below!
You are awesome as you are, and I love you!
And if you love me back, please click 'share' up at the top!

Facebook: davidarenson
David Arenson (Starlight) – World Teacher, Transformational Healer and Speaker.