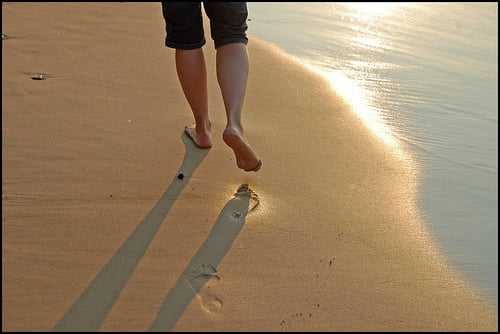 It's just a few days until it's officially summer. This usually signals a mad rush to truly savor the season. But unlike spring, fall or winter, there's an added expectation that comes with these next few months. So instead of getting caught up in them this year, I thought it'd be nice to find ways to unwind a little, de-compress and let go of the unrealistic pressures we put on ourselves when the days get longer and hotter.
Get Bikini Ready
Hot weather signifies shedding of our winter clothes. Instead of the freedom of dipping our toes in the sand or feeling the warm breeze on our skin, we often worry about our love handles, sagging arms or too thick thighs. As a result, gyms are fuller and exercise equipment and diet food/drinks sales surge during the summer months. It's a pity that we waste so much time scrutinizing every angle in the mirror or that we zoom in on how we look on the outside and neglect the whole of who we are. I admire the women and men who walk without shame in their bathing suits with real bodies. It's something we should all strive for. If you're not there yet, cover up. Relax and be comfortable this summer. It's okay if you don't look like Jennifer Aniston in a bikini. There's only one person who does-her.
Plan Elaborate Summer Vacation Plans
Every year you attempt to plan the biggest, best summer trip ever. But maybe this year your finances are limited or you just don't have the energy to do it again this year. Perhaps in trying to please everyone you end up disappointing yourself. If you can't afford it, don't do it. It's not the grand vacations that leave the most memorable impressions, it's the ones spent in joy and love that form the fondest memories. Leave your passport at home this year. Celebrate togetherness instead.
Finish Those New Year's Resolutions
Yes we're halfway done through 2012. If you haven't finished your 2012 New Year's Resolutions yet, don't sweat it. Maybe it's time you revisit that list and consider what's a true keeper and what shouldn't have gotten on there in the first place. Summer should be about being carefree, enjoying the warm weather and taking it easy. You don't need resolutions to do any of that.
You also don't need to travel to exotic islands, read all the books you said you'd get to in spring, wear slippers (flip flops), decide what you will do in fall, lose weight, find the love of your life, settle down, get your life in order or do anything else that you feel forced to do. You have three months to remember what it was like when you were a kid. Do you recall the exhilaration of being let out of school, the anticipation of having three entire months to do whatever you want?
Let that be your mantra. Let it fill you with the joy of purely being alive. Let it help you decide whether you'll savor that ice-cream cone, walk barefoot in the sand or stay up all night and count the stars. Do something that your future winter self will envy.
What will you indulge in this summer?