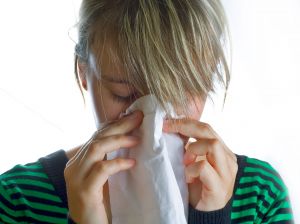 Spring is officially here. You're either rejoicing the end of the winter blues or mourning the beginning of allergy season. If you're in the latter category, I feel you. It's not just a nuisance to deal with headaches, watery eyes and a running nose, but a real pain. And it's not just a physical one, it's emotional too.
Last April, CNN Health published an online article called, "Sad in the spring? Allergy-mood link is real." In it, CNN writer Elizabeth Landau reported that there is a real relationship between allergies and mood. [If you want to read the full article, go here.]
"Research has shown there is about a doubling of risk for depression in a person suffering allergies and, if you've been seen by an allergist, that about triples the likelihood of having depression, said Dr. Paul Marshall, neuropsychologist at Hennepin County Medical Center in Minneapolis, Minnesota."
Although there is no evidence that allergies cause depression, there does seem to be a relationship between allergies and changes in mood. This is probably due to the side effects of allergy medication and allergies themselves. And feelings of fatigue and irritability could potentially worsen the symptoms in an individual who is already depressed. Think sleep disturbances, grogginess and low work performance.
So what can you do?
The article recommends holistic treatments such as neti pots and allergy shots to desensitize an individual over time. I think awareness is also key. Recognizing that allergies may worsen symptoms of depression will help you get prepared to combat the physical and mental effects with the start of the new season. Find ways to take care of yourself now by making time for rest, relaxing and taking it easy on yourself. If your symptoms seem intolerable or are affecting your mood, make an appointment to see your doctor or schedule a meeting with a therapist. It's just another example of why self-care is not just good for your physical health, but your mental health as well.
Do you suffer from allergies? How do you cope?