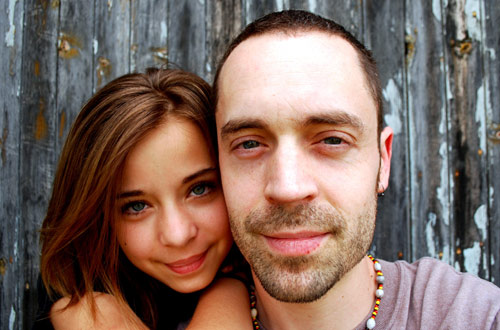 As I sit down to write this post, musician Jesse Sprinkle and his oldest daughter Mirabelle are on a plane on their way to Africa. Yesterday, they were in Dubai awaiting the next leg of their journey. It's 12-year-old Mirabelle's first time on an inernational trip, but not Jesse's. This will be his sixth trip, doing work with the Ugandan Water Project.
Music fans know Sprinkle from his art, first with Seattle-area grunge band Poor Old Lu and then other solo projects as well as tours with bands like Daylight, Demon Hunter, and Morella's Forest. He currently owns Bluebrick Recordings in East Avon, NY, a full-service studio, catering both to solo artists and large bands – or, as his website says, a "bohemian swarm of musicians". He's also a gifted photographer.
But right now, his heart is in Uganda.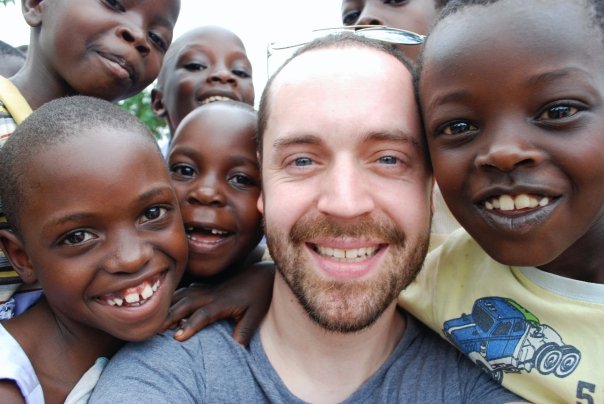 "My friend is the director of the water project," Sprinkle says, speaking of the Ugandan Water Project. After producing several CDs for the group Isaiah Six, a worship band that travels the work ministering with music, they invited him to join them on a trip. And the rest, they say, is history.
The Ugandan Water Project places rainwater collection tanks on community buildings throughout the East African nation of Uganda. It sounds like such a simple thing, and yet completing a project that will collect and provide water for about 100 families isn't feasible on the average Ugandan income of $1 or $2 a day.
That's where the Ugandan Water Project comes in. For about $3,500 and in about 30 days, the group can install a 10,000 liter water tank with a 35 year life span that will provide safe water for 100 families or 500 students. Water – we take it for granted here in America, but a water tank like this can change an entire community.
And change an artist. "The trips have most definitely influenced my music," Sprinkle says. "I've done a couple projects for the cause that have African influence. And in general it's just given me more inspiration being in country. It really changes up your perspective to say the least."
Also on this trip is a group is filming a documentary about the project, and after their work is done in Uganda, Jesse and Mirabelle will travel to Kenya to visit the child they sponsor through Compassion International.
While there, he and Mirabelle will be working with homeless kids. "Most of the stuff I do there consists of spending time with orphans and street kids, not the physical labor of installing water tanks," Jesse recently told the Livingston County News, his local hometown newspaper. "Mirabelle and I will be out doing the personable stuff. I'm helping with a new orphanage get started."
"I'm sure I have a lot of other things to say and share," Sprinkle tells me when I ask him about this trip. "But I don't even know where to start."
"You know how I'm not real gifted at self promotion," he reminds me. I know that, which is why I'm happy to share the story.
Getting himself and Mirabelle ready for the trip, getting his family ready for his absence – Jesse and his wife have four children and they're expecting again – and fundraising to pay for it all, he had his hands full. When he gets back, he promises to share more photos and stories.
Until then, you can help support his trip (donations are always needed, even after the trip has started, and especially for a humble artist with a growing family) and follow along at his website, http://www.jessesprinkle.net/
You can learn more about the Ugandan Water Project on the organization's website.