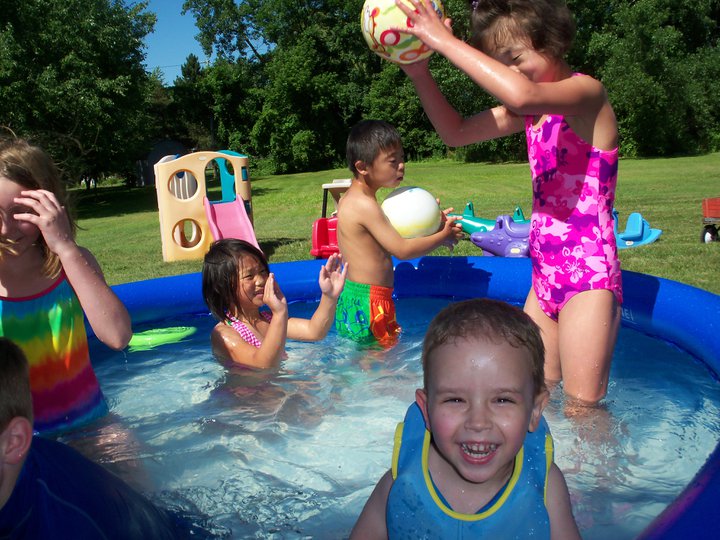 When a couple has a baby born with Down syndrome, it can be a really difficult adjustment, especially if they hadn't been preparing for a child with special needs. But what if a couple purposely sought to adopt children with special needs? In fact, traveled around the world to bring home the children that no one in their own country wanted?
Now, there's a story.
I've known Dan Kulp for years. We met when he and his indie band The DIG Project touring and playing nationally. I've always been intrigued by Dan's story of growing up in a family with a brother and then adopted siblings who had Down syndrome.
So it was no surprise when he and his wife Liz welcomed two children with special needs into their family – first Simon, in 2007, and then Danielle, two years later. Both are from China.
But the story got even more exciting when this year Dan and Liz traveled to the Ukraine to bring home Shea, a child with Spina Bifida – all while Liz was pregnant with their first "belly baby".
Liz is a physical therapist; while Dan still plays music he's moved on to stand up comedy, traveling the coast speaking and performing at churches, and for pro-life groups and organizations like Special Olympics.
Dan is currently working on a book about his experiences (tentatively titled "Confounding The Wise"), which includes stories about growing up with siblings with special needs, how Show Hope was directly involved with Simon's adoption, and managing to survive on faith in the most trying and yet wonderful circumstances.
So I asked him to share some of those stories here. I hope they inspire you as much as they inspire me.
Gospel Soundcheck: Can you tell me about growing up with a sibling with Down syndrome? How did that impact your childhood and encourage your parents to adopt children with special needs?
Dan Kulp: My father used to say that when he looked into the eyes of a child with Down syndrome, it was like looking into the face of God. My brother Matthew was born a year after me in 1971 so we were very close growing up. He was such a blessing to the family that my family made the radical decision to adopt three more children with Down syndrome. My older brothers and sisters were all ten, eleven and twelve years older than me and at the time had been moving out of the house to start their own lives. My new brothers and sisters were much closer to my age and so this is the life that I became very used to.
I definitely think it gave me a heightened awareness and sensitivity for the special needs community. When my wife and I were going to adopt a child, I became very nervous about becoming a dad. When I found out that we had been matched with a child who has Down syndrome, it put me at ease because this was something I was much more comfortable with!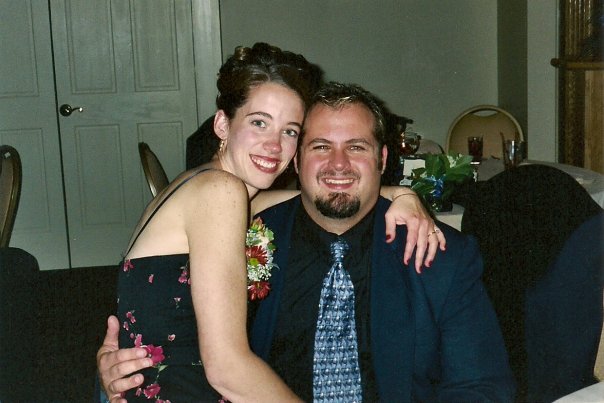 GS: How did you meet Liz? What influenced her work with special needs children?
DK: Elizabeth and I met at one of my band's (The Dig Project) concerts at a church in Canandaigua, NY. She had been volunteering with the youth at her own church and had brought them there to see our concert.
She has always had a heart for all children. At one point when we were dating, she decided to volunteer in orphanages in China using her skills as a physical therapist to help children with special needs.
GS: Tell me about the discussion you had before you got married, about adopting? Was the plan always to adopt children with special needs?
DK: When she came home from China the first time (she went twice for a few months both times), she was convinced that she needed to adopt from there someday. She had experienced some wonderful things, but also some very tragic things. She informed me that any man she was going to marry had to be willing to adopt. Originally, the plan was for us to adopt a child with very mild special needs. At that time though, China considered special needs to be very mild and correctable conditions, like cleft palates and birthmarks. I can remember joking that perhaps we could adopt a child from China who had Down syndrome, based on both of our desires. But at the time, it really was a joke, because China was not allowing children to be adopted out who had Down syndrome.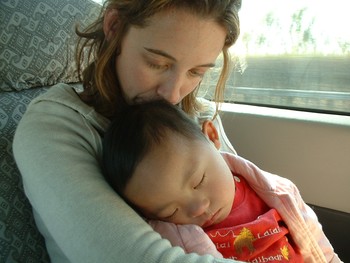 GS: Can you tell me how Show Hope/the Chapmans aided in the adoption of your first son, Simon?
DK: This is actually quite miraculous. Years ago I brought some youth from church to see a Steven Curtis Chapman concert. At one point I had wandered out into the hall and saw a display to win one of his guitars. I filled out the entry sheet and stuck it in a box and off I went.
By filling out the entry form, I had put myself on the Shohanna's Hope (now Show Hope) e-mail list. I started getting regular newsletters from them but never paid much attention.
A few years later, after I had been married and Elizabeth and I had started the adoption process, I received another one of their newsletters and there was a picture of a little boy who had Down syndrome that they were pleading to find parents for. I called my wife at work and said, "What do you think of this?" She sort of laughed at me and reminded me that we had already started the process with a different adoption agency and spent thousands in non-refundable deposits. But, she told me to call Show Hope and find out how we could pray for this little boy they called Howie. So I did, and the lady on the phone told me they had had hundreds of inquiries. Phew, we were off the hook. She took my info, though, in case they wanted to tell us more to pray for.
I went on the road for a couple of months with the band and didn't think much about it. When I got home, I received a personal e-mail from the lady I had spoken with and she asked if we would reconsider adopting Howie because the family they had matched him with had fallen through. Uh oh. I called my wife and she laughed at me again. This time we were even further along in our adoption process. But, she told me to call again and see how we could pray for him.
When I called I reminded the Show Hope rep that they had had hundreds of inquiries, so that must mean there were several others waiting in the wings, right? She told me that no, most of those didn't qualify for one reason or another and they felt only us and one other couple qualified.
Now we knew God was trying to get our attention – so we went for it! God was so much in charge, that when we informed our current adoption agency, they refunded all of our non-refundable money!
What we didn't know at the time was that Steven Curtis and Mary Beth Chapman had met our son in China and fell in love with him. They were the ones who advocated to get him placed on the waiting child list in China. I am forever in debt to them for what they did to rescue our son Simon, who they know as Howie.
I didn't win the guitar, but I received a much, much more valuable prize!
Additionally, their ministry, Show Hope has been extremely supportive in all three of our adoptions both financially and spiritually.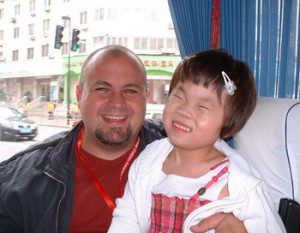 GS: Tell me about Danielle and how you came to adopt her. She has Alfi's syndrome – what is that and what special challenges do you have as a parent?
DK: A couple years after we adopted Simon, more children with Down syndrome made it onto the waiting child list. Danielle was on there and was listed as having Down syndrome. We felt the tug on our hearts and decided to go for it. A few months after getting her home, we were informed by the doctors that she didn't have Down syndrome, but a much more rare chromosomal disorder called Alfi's syndrome. It doesn't have anything to do with the 21st chromosome like Down syndrome, but it means that part of her 9th chromosome is missing. There are only about a 125 reported cases in the whole U.S. and 250 in the whole world.
Because it is so rare, data is still being compiled on what all of the effects are. What they do know is that people with Alfi's tend to have issues with their ovaries, skull, kidney's etc. plus behavioral traits like hyperactivity and ADD as well as cognitive delays. She has a team of doctors keeping an eye on her and right now everything is fine! She's happy and healthy and a real joy to have as another Kulp. The challenges as a parent are very similar to the ones that we face with other special needs. We need and pray for lots of energy and stamina and patience, but really I think those are the same things that parents of typical children need too.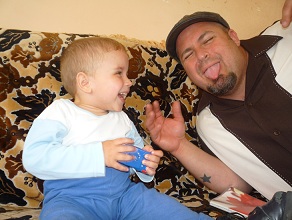 GS: Tell me about your third child, Shea, and how you came to adopt him.
DK: Once again, my wife found him on a web site (I really need our computer to get a virus or something so that it is no longer usable) and God really tugged on her heart strings. He was a little boy about 4 ½ years old with Spina Bifida. Elizabeth told me that in the Ukraine, if a child reached four or five and wasn't adopted yet, they move them to an adult mental institution for the rest of their lives.
Can you imagine a four-year-old that you know living in a place with people who are mentally ill or criminally insane? We were also told that because of his Spina Bifida, they would probably just put him in a bed for the rest of his life so they wouldn't have to deal with him – even though we had seen some video of him scooting around the orphanage, playing and being quite mobile.
When Elizabeth told me all of this, I immediately went crazy e-mailing and Facebooking everyone I knew to try and find parents for him. What I didn't quite realize is that Elizabeth thought we should be his parents! When she finally told me, I said, "Honey, we don't have the money. We don't have the space and I don't have the energy for us to adopt him". She said, "Dan, I know all of that and all of that is true. But all I know is that God doesn't call the equipped, he equips the called." That little phrase hit me like a ton of bricks and I agreed that we needed to do this. I had learned the truth of what she said from our previous adoptions.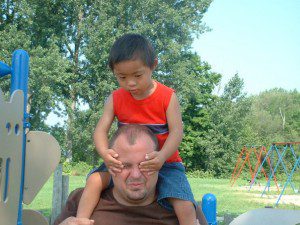 GS: You've transitioned from music to also doing stand up comedy. Have you always done stand up? How do you work being a parent of special needs children into your routine? It seems like it would be a delicate topic; how do you approach it without being offensive? What kind of feedback have you gotten?
DK: I tried stand up a few times years ago when I was in college, but didn't stick with it. A few years ago, when the economy went down hill, it got harder and harder for an Indie band to be on the road and we stopped touring. All the other guys were fine, as they had something else to do with their lives. One guy ran a family business. Another had his real estate license, etc. But I had put all my eggs in one musical basket and wasn't sure what I was supposed to do with my life.
I started going on the road with another musician (a solo act called The Highway Beautiful) and we did a tour called "Stories and Songs", where I would tell humorous stories about my life, which were funny but had a message too, and he would interweave his original songs throughout.
One day I got a call from some comedian friends of mine, a comedy duo called Dave and Brian. They were performing at Syracuse University and asked if I wanted to open up for them by myself. It went well enough that afterwards, Brian pulled me aside and said he knew that I was trying to figure out what to do with my life and I should think about doing comedy. That meant a lot coming from those guys. They have been a huge support.
So now I travel the country performing Inspirational Comedy!
The band is still together, we just don't tour anymore. We perform an occasional concert here and there. And right now, we are working on a new album.
As far as talking about being a parent to children with special needs, the reason my material isn't offensive is because I don't make their special needs, diagnosis or challenges the butt of my jokes. Usually I am the butt of my own jokes! I talk about my inadequacies as a father. And when I do talk about the kids and their behaviors, I talk about the universal situations that all parents face – like changing diapers, chasing the kids, potty training – you know, those topics that show how our kids are the same, not different. I also have a great deal of material unrelated to child raising too – stuff about summer camp, churches and my overweightness.
In addition the many churches, colleges, camps, conferences, youth groups, and pro-life groups that I perform for, I also speak for a lot of organizations like Down syndrome networks, Autism groups (Simon has a secondary diagnosis of Autism), Special Olympics , etc. Many of these groups feel beat up by mainstream entertainment. They do feel like their children are the butt of the jokes, from stand up comedians to sitcoms to movies. I think they like having someone in their corner who understands the day-to-day battles they fight to show the rest of the world how valuable their children are. I would never violate that and quite frankly, because of my upbringing, it comes naturally for me. I would never even consider mocking the special needs community because I don't see the humor in it.
* * * * * *
For more information about Dan and Liz, follow along on Liz's blog, Controlled Chaos! or Dan's website.
For more information about Show Hope, the organization started by Steven Curtis and MaryBeth Chapman, visit the Show Hope website.
For more information about Reece's Rainbow, the organization that aided the Kulps with Shea's adoption, visit the Reece's Rainbow website.
Of course, now that you've heard Dan's story, you'll want him to come and speak at your church or event. You can find out how to do that by contacting Ambassador Speakers Bureau.