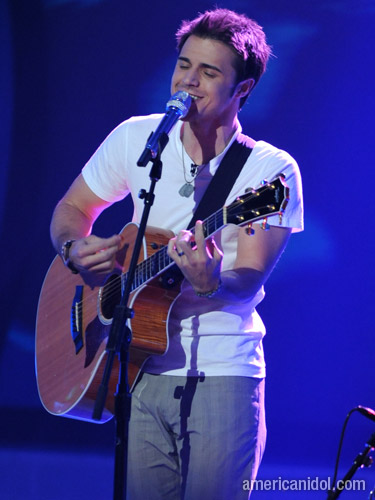 It's official: Season 8 American Idol winner Kris Allen's debut album is set to release November 17.
Even more exciting, he's reportedly been in the studio with Mat Kearney.
Whoa, this album's sounding better and better every day.

Allen has been recording with a wide variety of artists and songwriters, from The Fray's Joe King to Toby Gad (Beyoncé, Fergie) and Lindy Robbins (Backstreet Boys, Jordin Sparks).
Danny Gokey's new last week that he's decided to go the country route pales desperately in comparison to this news. Allen's album promises to be more than we ever could have expected.
His first single, "No Boundaries," that … er … interesting … song co-penned by Idol judge Kara DioGuardi, is on the air now, and honestly, it sounds a heck of a lot better than I ever expected. Then again, Kris Allen has more talent that anyone gave him credit for, and he pulled it off effortlessly.
The Idols are on tour for another two weeks (I've been so oblivious this summer that I didn't even realize when they were here in town a few weeks ago. Still getting over my Idol overload from last season, I think.)
You can learn more about Kris Allen on his official website, and read my posts about Season 8 of American Idol on my blog archives.
Click here to subscribe to Gospel Soundcheck by email and have the Gospel Soundcheck headlines delivered daily to your email inbox. And don't forget to follow me on Twitter!