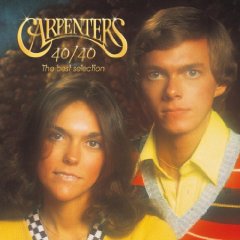 Hard to believe it was 40 years ago that brother and sister Richard and Karen Carpenter released their debut album. They went on to become the most successful brother-sister duo and one of the best selling artists of all time.
Now you can relive those memories with 40/40, produced by Richard Carpenter. The album includes all of the Carpenters' dozen Top 10 Pop hits, 19 of their 20 Top 40s and 23 of their 28 Top 75 Pop singles, from 1969's cover of the Beatles' "Ticket To Ride" to 1981's "Those Good Old Dreams."
The Carpenters' hit streak started with 1970's "Close To You" and ended in 1981 with their final Top 40 hit, "Touch Me When We're Dancing." Karen Carpenter died in 1983 after suffering for years from anorexia. She was one of music's most influential females; artists from Christina Aguilera, Gwen Stefani and Shania Twain to Mary J. Blige, Alicia Keys and Madonna have noted Karen Carpenter's influence on their careers. I remember watching her thinking, "Women can play the drums? How cool is that?"

This album release has nothing to do with Christian music, but when I look back on the soundtrack of my life, so to speak, The Carpenters are right at the top of the list. "We've Only Just Begun" make me cry even to this day; "Bless The Beasts and the Children" touches my heart (I loved both the book and movie of the same name, too); "For All We Know," "Rainy Days And Mondays," "Superstar," "Yesterday Once More," "Sing" … the list goes on and on and on.
I think I connected with some sort of sadness I saw in Karen Carpenter. Her songs touched something deep inside me and I felt like she understood my teenaged emptiness, my yearning for love. It was a yearning that was only filled decades later when I let Christ fill that hole in my heart. I've wondered about Karen Carpenter over the years, hoped that she found happiness before she died.
But I digress.
With the pile of new CDs growing next to my desk, this album is the only thing in the past few months that's gotten me really excited. I love their music.
It's funny; nowadays Christians are so concerned with listening to only Jesus-fish-approved music that they'd miss out on something like The Carpenters – if something this good was still around, that is.

If you've never listened to The Carpenters, or if you're looking for a trip down memory lane,
40/40
releases in October. You can learn more at
The Carpenters' official website.
Click here to subscribe to Gospel Soundcheck by email and have the Gospel Soundcheck headlines delivered daily to your email inbox. And don't forget to follow me on Twitter!