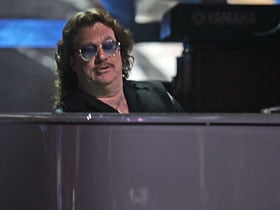 Lynyrd Skynyrd keyboardist Billy Powell died this morning at his condo in Florida. News reports say that he had a history of heart problems and had missed an appointment with his cardiologist on Tuesday.
According to reports, Powell called 911 around 12:55 a.m. Wednesday saying he was having trouble breathing. When rescue crews arrived they performed CPR, but he was pronounced dead at 1:52 a.m.
Powell was seriously injured in the Oct. 20, 1977 plane crash that killed Lynyrd Skynyrd singer Ronnie Van Zant, guitarist Steve Gaines, his sister and backing vocalist Cassie Gaines, and assistant road manager Dean Kilpatrick.

During the band's hiatus in the 80s, Powell briefly joined a Christian rock band named Vision and spoke during the concerts about his newly found faith in Jesus Christ.
The band reformed in 1987, and made their first public appearance at the Charlie Daniel's Volunteer Jam XIII. They performed more than 30 dates on a reunion tour, marking the tenth anniversary of the fatal plane crash. Lynyrd Skynyrd continued performing and recording, celebrating 30 years as a band in 2004. The band was inducted into the Rock and Roll Hall of Fame in 2006.
Guitarist
Gary Rossington's wife, Dale, said in the Florida Times Union
that the band members had long been worried about Powell's health, adding, "But he had such a big huge heart of gold, such a huge abiding faith in God and his savior Jesus."
Powell leaves behind his wife Ellen Vera Powell and their four children.
Singer Johnny Van Zant said the band was taking the news of Powell's death hard. "For me," said Van Zant in the Florida TImes Union story, "if anybody reading your article wants to do something, say a prayer for Billy and his family. That would be greatly appreciated."
For more about
Lynyrd Skynyrd, visit the band's website.
Visit Beliefnet's Christian music blog, Gospel Soundcheck, daily for the latest news on your favorite Christian music artists as well as mainstream artists with ties to Christian music.